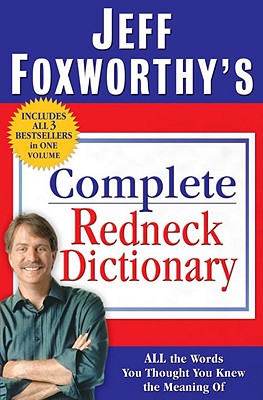 Jeff Foxworthy's Complete Redneck Dictionary: All the Words You Thought You Knew the Meaning of (Hardcover)
All the Words You Thought You Knew the Meaning of
Villard Books, 9780345507020, 384pp.
Publication Date: November 4, 2008
* Individual store prices may vary.
or
Not Currently Available for Direct Purchase
Description
There's no such thing as too much redneck. And it's easy to understand why. A veritable gumbo of indigenous ingenuity, this deliciously distinct dialect rolls off the tongue like drool in the presence of a barbecue sandwich. Now, just in time for no time in particular, Jeff Foxworthy's three bestsellers are rolled into one hilarious redneck reference. This practical, portable A-to-Z crash course will have you laughing and learning your way to flawless southern slang. Say after me: bay - ou (bi-u), v. and n. to purchase for another. "I just walked right up to her and said, 'Hey darlin', lemme bayou a drink.' " doo - dle (dud-el), n. and v. a male person and his predicted actions. "Don't even look at him, 'cuz that doodle kill you." tor - toise (tort-es), v. and n. to have imparted knowledge or wisdom to a group. "That stupid teacher never tortoise nothin'. " Whether you're a newbie looking to connect with your inner redneck or a seasoned pro hoping to sharpen your skills, The Complete Redneck Dictionary is the only reference you'll ever need. Picking up Redneck (and this book) has never been easier.
About the Author
Jeff Foxworthy is the largest-selling comedy-recording artist in history, a multiple Grammy Award nominee, and the bestselling author of more than twenty-six books, including his Redneck Dictionaries. He is the host of the Fox television series Are You Smarter Than a 5th Grader? Jeff also starred in all three Blue Collar Comedy Tour movies, which have sold more than eight million copies and are some of the highest-rated movies in Comedy Central history. His syndicated weekly radio show, The Foxworthy Countdown, is carried in more than 220 markets across the United States. A Georgia native, Jeff lives with his wife and two daughters in Atlanta.
Advertisement