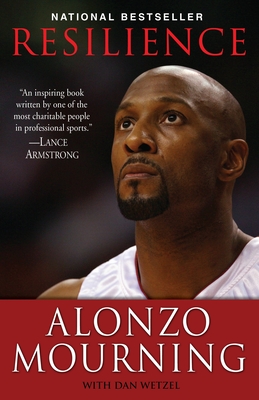 Resilience (Paperback)
ESPN Video, 9780345507501, 272pp.
Publication Date: September 29, 2009
Description
In 2000, Alonzo Mourning was on top of the world: He had a fat new NBA contract, an Olympic gold medal, and a second beautiful child-plus the fame and wealth he had earned playing the game he loved. But in September of that year he was diagnosed with a rare and fatal kidney disease. Over the next couple of years, as his health faltered, he retired, unretired, and retired again-and sought to make sense of what remained of his life. Finally in 2003, after a frantic search for a donor match, Mourning had a new kidney and a new outlook. He vowed to make this second chance count by dedicating his life to others. By sharing his experiences of the chasms and peaks of illness and recovery, Mourning delivers a message of faith and fire, trust and triumph. Resilience is a story of both meaningful everyday lessons and the things, great and small, that truly matter in life.
About the Author
Alonzo Mourning was a seven-time NBA all-star and a two-time Defensive Player of the Year during his eleven-year career. He won a gold medal for the United States at the 2000 Olympics and an NBA championship with the 2006 Miami Heat, where he is that franchise's all-time leading scorer. He was also a three-time All America at Georgetown, where he earned a degree in sociology. Mourning is a national spokesman for the National Kidney Foundation and operates Alonzo Mourning Charities, including Zo's Fund for Life. He, his wife, and their two children live in Coral Gables, Florida. Named "America's Best Sports Writer" in 2006 by Salon.com, Dan Wetzel is an award-winning columnist for Yahoo! Sports, the most read sports site on the Web, and is a regular guest on sports radio shows around the country. He is the co-author of three books, including Glory Road (with Don Haskins), which became a major motion picture. From the Hardcover edition.
Praise For Resilience…
"Most people know Alonzo Mourning as a world-class athlete—an Olympic and NBA Champion—but he is so much more than that. The pages of Resilience reveal the many hurdles Alonzo has overcome throughout his life, and there have been many, from his childhood spent in foster care to his return to the NBA after undergoing kidney transplant surgery. Through it all, Alonzo has shown a rare combination of faith, optimism, and resolve in achieving his goals... and those goals go far beyond the basketball court. Resilience is an inspiring book, written by one of the most charitable people in professional sports."— Lance Armstrong


"[Mourning] writes with typical Zo passion and bluntness about his difficult youth, his foster mother, his comeback from a kidney transplant and his championship season with the Heat. . . . It was heartening to see a line of Mourning fans snaking through the courtyard [at his book signing], proving that fondness for sports and fondness for reading are not mutually exclusive."—Miami Herald

Advertisement