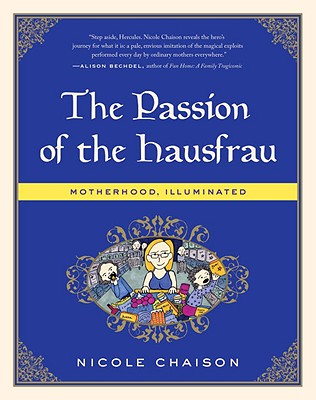 The Passion of the Hausfrau: Motherhood, Illuminated (Hardcover)
Motherhood, Illuminated
Villard, 9780345507952, 256pp.
Publication Date: June 16, 2009
* Individual store prices may vary.
or
Not Currently Available for Direct Purchase
Description
Behold, brave readers! Herein lies the first epic hero's journey told by a mother–the Hausfrau, whose odyssey is a 24/7 adventure of pandemonium, sleep deprivation, madness, and transcendence. But beware! This journey is not for the faint of heart, as Nicole Chaison (a.k.a. the Hausfrau) boldly demonstrates in this brilliantly witty and vivid graphic memoir. The Hausfrau weaves a tale of sidesplitting trials and addresses age-old questions: Does a good mother have to give up her own dreams? What is a good mother, anyway? And is there a bathing suit that will fit her gargantuan behind?

And so the journey unfolds, illuminating all things mommy, including

• The Laborynth: an intricate maze of hormones, exhaustion, and ego struggles.
• the Björn Conspiracy: Can a mother go to the bathroom with a slumbering newborn tethered to her chest?
• Monsterfrau moments: Hell hath no fury like a sleep- and serotonin-deprived Hausfrau.
• the Unhip Mama: Piercings, spiky hair, and tattoos do not a trendy mama make.
• a Hausfrau Holiday Bake-off: yet another portrait Norman Rockwell forgot to paint.

Fiercely funny, wholly original, and sure to be recognizable to mothers everywhere, The Passion of the Hausfrau is filled with the messiness, meltdowns, mayhem, and bliss of modern motherhood.
About the Author
Nicole Chaison is the creator of Hausfrau Muthah-zine, a quarterly comic book that chronicles the roller coaster of passion that is parenting. She wrote the James Beard Award--nominated Spice: Flavors of the Eastern Mediterranean with chef Ana Sortun. As the Hausfrau, Chaison appears regularly on the Home Dad Show, broadcast on Maine's WMPG radio. A one-woman show based on her stories-and also called The Passion of the Hausfrau-opened in March 2009 at the Portland Stage Company. She lives with her husband, Craig Lapine, and two children in Portland, Maine.
Praise For The Passion of the Hausfrau: Motherhood, Illuminated…
"A humorous and incredibly detailed look at the roller-coaster demands of motherhood...a hilarious look at the
housewife and mother." - Booklist

"The Passion of the Hausfrau made me laugh, consistently and hard." —Ayun Halliday, author, The Big Rumpus and "Chief Primatologist," The East Village Inky

"Nicole Chaison's The Passion of the Hausfrau made me want to strap on a Miracle Bra®, grab a glass of wine and a pen and chronicle the next PTA meeting I'm forced to attend. This book is bold, funny, raw and surprisingly literary. I'll never look at The Odyssey (or my sagging breasts) the same way again."—Robert Wilder, author of Daddy Needs a Drink and Tales From the Teachers' Lounge

"Nicole Chaison is a brave, soulful, and side-splittingly funny voice of modern motherhood. In The Passion of the Hausfrau, she manages to tell the deep truth about parenting with a spirit that keeps even the most jaded moms laughing." —Ariel Gore, author of The Mother Trip and creator of Hip Mama Magazine

"Step aside, Hercules. Nicole Chaison reveals the hero's journey for what it is: a pale, envious imitation of the magical exploits performed every day by ordinary mothers everywhere. The Hausfrau's most impressive feat, however, is that she has the energy and brain cells left to tell the tale."—Alison Bechdel, author of Fun Home: A Family Tragicomic

"Read The Passion of the Hausfrau, and you'll feel like you've just spent the afternoon with your best ever girlfriend–the one who's hilarious, compassionate, sneakily erudite and endearingly confessional. You know the girlfriend I mean. She's conflicted, guilty, wise, left-wing and (though she doesn't know it) dauntingly talented. So put down that sippy cup, wipe the baby vomit from your back, and head out and buy Nicole's Chaison's book. It's the most fun you'll ever have with an illuminated manuscript. Guaranteed."—Debra Spark, author of Coconuts for the Saint and editor, Twenty Under Thirty
Advertisement