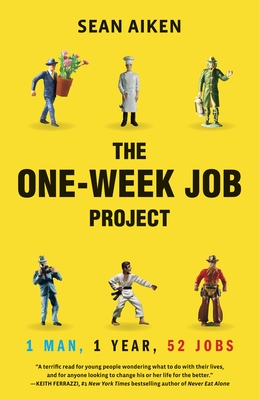 The One-Week Job Project (Paperback)
One Man, One Year, 52 Jobs
Villard, 9780345508034, 320pp.
Publication Date: May 4, 2010
* Individual store prices may vary.
Description
THE REMARKABLE AND INSPIRING TRUE STORY OF ONE GUY WHO TRANSFORMED HIS UNCERTAINTY ABOUT THE FUTURE INTO ACTION
 
A year and a half after he graduated from college, Sean Aiken found himself struggling to answer the question "What should I do with my life?" His mother suggested teaching. His older sister told him to apply for an entry-level corporate position. His father said, "It doesn't matter what you do, just make sure it's something you're passionate about." Taking his father's advice to heart, Sean created the One-Week Job Project and launched himself on an epic journey to find his passion. His goal: to work fifty-two jobs in fifty-two weeks.

After the launch of his website, oneweekjob.com, the offers began pouring in. Sean's first gig was—literally—jumping off a bridge, as a bungee operator in British Columbia. From there he traveled across Canada and the United States, reinventing himself as a firefighter, an aquarium host, a radio DJ, a martial arts instructor, an NHL mascot, and a snowshoe guide. During the course of his seven-day stints, from a Florida stock-trading floor to a cattle ranch in the wilds of Wyoming to a real estate office in Beverly Hills, Sean found time to make new friends and even fall in love. Whether choosing a spring fashion line, brewing beer, or milking a cow, Sean continued to ask himself and others about what success really means and how we find happiness—all while having the adventure of his life.
 
Inventive and empowering, witty and wise, The One-Week Job Project is a book that will give you the courage to follow your passion. Or, as Mark Twain said, "Explore. Dream. Discover."

About the Author
Sean Aiken graduated from Capilano College in North Vancouver, British Columbia, with a degree in business administration in 2005. At the top of his class, with a 4.0 cumulative GPA, he was voted class valedictorian. He started the One- Week Job project in February 2007, at age twenty- five, and finished his 52 weeks in March 2008.
Praise For The One-Week Job Project: One Man, One Year, 52 Jobs…
"It started as a simple idea: work a different job every week for a year.  But as Sean put his plan into action, it quickly became a life-changing, cross-continental, action-packed adventure.  After reading The One-Week Job Project, you'll know how to bring the most extraordinary things out of life, and how to score some choice jobs along the way!"—Kyle MacDonald, author of One Red Paperclip

"With 52 jobs, 52 experiences and 52 lessons learned, Sean Aiken has done all the dirty work for young individuals who are looking to embark on their own career journey.  The One-Week Job Project is eye-opening, entertaining and will help answer the question on any young individual's mind: what do I do when I graduate?  Sean has done it all in less time than it takes to graduate from college and has pulled all of his knowledge into one book that can and will change your life for the better."—Dan Schawbel, author of Me 2.0: Build a Powerful Brand to Achieve Career Success

"The One-Week Job Project is a terrific read for young people wondering what to do with their lives, and for anyone looking to change his or her life for the better. Sean Aiken's audacious, inspiring book packs a good dose of humor and reminds us that the only thing standing between you and your dreams is yourself!" —Keith Ferrazzi, author of Never Eat Alone and Who's Got Your Back

"At a time when the traditional path to success is fading from view, Sean Aiken has emerged as a role model for making the best of the inherently unstable life of today's workforce. Most people will likely work a number of different jobs in a variety of different fields over the course of their lifetimes, and most people will feel uneasy during transition. Aiken's book shows 52 transitions, and they add up to a vital message that job hopping is productive and can help you find a better career, and build a better life."—Penelope Trunk, nationally syndicated career columnist and author of Brazen Careerist: The New Rules for Success

"Who says job hopping is a bad thing? Sean Aiken worked 52 jobs in one very busy year and documented the life-changing experience in his wonderful new book, The One-Week Job Project. Sean takes you on a rollicking journey across the U.S. and Canada to gigs as an astronomer, brewmaster, cowboy, and deejay (among many others).  He shares hilarious stories and valuable advice from mentors in pubs and tattoo parlors, on dairy farms and movie sets, and in kitchens and cubicles. I loved the opportunity to tag along on Sean's year of career enlightenment without having to sleep on 55 couches and trek more than 46,000 miles. I think you will too. The One-Week Job Project is a great read and a terrific resource for anyone looking for inspiration on the job."—Pamela Skillings, career coach and author of Escape from Corporate America: A Practical Guide to Creating the Career of Your Dreams


"The One-Week Job Project is a remarkably original idea that will inspire a new generation of young people to stay true to themselves, shed the noise around them, and set out to define their own roads in life. This book will help you to take a critical look at your own future, and all the possibilities that lie waiting."—Mike Marriner, co-founder, Roadtrip Nation and author of Roadtrip Nation: A Guide to Discovering Your Path in Life

"The long-held idea of 'trying on' jobs before you 'buy' them now gets a fresh approach, as the author 'tries on' fifty-two jobs within the space of fifty-two weeks."—Richard N. Bolles, author of What Color Is Your Parachute 

"I can't say whether Sean Aiken was a good aquarium host or tattoo artist, but I do think he's very good at one job: Writing."—A. J. Jacobs, author of The Year of Living Biblically

"What is it like to work 52 jobs in as many weeks?  Sean Aiken took it upon himself to find out, and he shares his discoveries with us in The One Week Job Project.  A fantastic concept, and a fascinating book!"—Marshall Goldsmith, New York Times bestselling author of Mojo and What Got You Here Won't Get You There
or
Not Currently Available for Direct Purchase