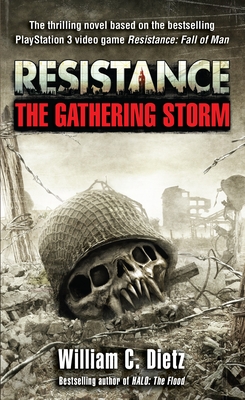 Resistance: The Gathering Storm (Mass Market Paperbound)
The Gathering Storm
Del Rey Books, 9780345508423, 340pp.
Publication Date: April 28, 2009
Description
Great Britain. July 1951.
Three years ago, Russia went dark. Nothing got in. Nothing got out. The world assumed it was political strife. But it was the Chimera: voracious extraterrestrial invaders. And in December 1949, they burst across the Russian border and poured into Europe. The luckiest humans died. The less fortunate succumbed to an alien virus-and changed.
Within a year, most of Europe had fallen. Only Great Britain, after struggling desperately, had kept the conquerors at bay. But as the Chimera were repelled, they were evolving. Building. Planning.
America. November 1952.
The Chimera have crossed the Atlantic. Their lightning strikes on American borders are devastating. Cities are lost. Small towns overrun. Citizens transformed into monstrosities. Enter Lieutenant Nathan Hale, U.S. Ranger. A veteran of the Chimeran conflict, he is uniquely immune to the alien virus. And when regular troops can't stem the Chimeran onslaught, Hale and his special-operations team meet the menace head-on.
But while they battle the relentless Chimera, deadly power games rage in the White House. And when Hale discovers a far-reaching conspiracy, one with deadly consequences for the human race, his allegiance to country and mankind is stretched to the breaking point.
About the Author
William C. Dietz is the bestselling author of HALO: The Flood and Hitman: Enemy Within, plus thirty other science fiction novels, some of which have been translated into German, Russian, and Japanese. He grew up in the Seattle area, served as a medic with the navy and the Marine Corps, and graduated from the University of Washington. Dietz worked as a surgical technician, news writer, college instructor, television producer, and director of public relations for an international telephone company prior to embarking on a full-time writing career.
Advertisement