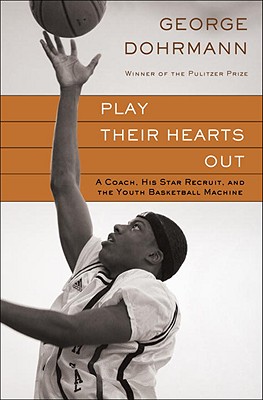 Play Their Hearts Out (Hardcover)
A Coach, His Star Recruit, and the Youth Basketball Machine
Ballantine Books, 9780345508607, 422pp.
Publication Date: October 5, 2010
* Individual store prices may vary.
or
Not Currently Available for Direct Purchase
Description
Eight years of unfettered access, a keen sense of a story's deepest truths, and a genuine compassion for his subject allow Pulitzer Prize winning journalist George Dohrmann to take readers inside the machine that produces America's basketball stars.
Hoop dreams aren t just for players. The fever that grips college basketball prospects hoping to strike big-time NBA gold afflicts coaches, parents, and sneaker executives as well. Every one of them has a stake in keeping America's wildly dysfunctional, incredibly lucrative youth basketball machine up and running no matter the consequences.
In" Play Their Hearts Out," George Dohrmann offers an up-close and unforgettable look inside the maw of that machine. He shares what he learned from his years spent embedded with a group of talented young recruits from Southern California as they traveled the country playing in elite Amateur Athletic Union (AAU) events. It's a cutthroat world where boys as young as eight or nine are subjected to a dizzying torrent of scrutiny and exploitation. Coaches vie to have them on their teams. Sneaker companies ply them with free shoes and gear. All-star camps are glorified cattle auctions, providing make-or-break opportunities to secure the promise of an elusive college scholarship.
At the book's heart are the personal stories of two compelling figures: Joe Keller, an ambitious AAU coach with a master plan to find and promote the next LeBron thereby paving his own path to power and riches; and Demetrius Walker, a fatherless latchkey kid who falls under Keller's sway and struggles to live up to the unrealistic expectations his supposed benefactor has set for him. As their fortunes take shape and the pressure mounts Demetrius finds himself profiled in Sports Illustrated at age fourteen, while Keller cultivates his business empire Dohrmann weaves in the stories of numerous other parents, coaches, and players. Some of them see their prospects evaporate as a result of poor decisions and worse luck. Others learn how to thrive in a corrupt system by playing the right angles.
Written with incomparable detail and insight, "Play Their Hearts Out" is a thoroughly unique narrative that reveals the inner workings of an American game, exposing the gritty reality that lies beneath so many dreams of fame and glory.
About the Author
George Dohrmann is a senior writer at "Sports Illustrated" and the magazine s investigative reporter. In 2000, while working at the "St. Paul Pioneer Press," he won a Pulitzer Prize for a series of stories that uncovered a college basketball team s academic fraud. Dohrmann lives in San Francisco with his family. This is his first book."
Praise For Play Their Hearts Out: A Coach, His Star Recruit, and the Youth Basketball Machine…
"An often heartbreaking, always riveting exploration of the seamy underbelly of big-time youth basketball--and one of the finest books about sports I've ever read."
    --The New York Times Book Review

"The sheer accumulation of transgressions makes for a deep and devastating portrait of an Amateur Athletic Union basketball team."
    --The New York Times

"A tremendous account...the book has kept me up at night reading."
    --The Cleveland Plain Dealer

"A unique and in-depth look at youth basketball, the players, the characters and how it all fits together, ala "Friday Night Lights." Nice insight into a very unique and complex subculture."
    --NewJerseyNewsroom.com
"Sit down and read the
Friday Night Lights
of youth basketball. Except the landscape is even darker here, greed and blind ambition stirred together in a toxic stew, the perversions of the modern American athletic dream even more perverted. This is nothing less than Dickens brought up-to-date, the characters in
Oliver Twist
dressed in Adidas warm-up suits. Amazing stuff. You'll never watch basketball the same way again."—Leigh Montville, author of
The Big Bam
 
"Like a versatile baller, George Dohrmann swings seamlessly from position to position: investigative journalist, social critic, gifted storyteller. The result, Play Their Hearts Out, is a gem of a book that addresses the question central to contemporary basketball: How does such an unseemly culture spring from such an essentially beautiful game? You'll come away rooting harder than ever for the kids and harder than ever against the basketball profiteers."—L. Jon Wertheim, author of Strokes of Genius

"What happens when the nation's foremost investigative sports reporter spends eight years probing the fascinating underworld of grassroots basketball? You get a page-turning narrative that will absorb and repulse you at the same time. I thought I knew a lot about grassroots hoops, but the scope and depth of the reportage in this book just blew me away. Play Their Hearts Out is a must-read for anyone who has ever watched, played, coached, or otherwise worked in—and cared about—the sport of basketball."—Seth Davis, author of When March Went Mad

"Think Friday Night Lights, but for amateur basketball."
--GQ

"A tour de force of reporting."
--The Washington Post

"Eight years of reporting in sharp, syrup-free prose…indispensable for anyone curious about the flawed process of forging America's premier basketball players."
--The Wall Street Journal

"Read this book and it's so plain to see that this broken system needs to be changed, even if it means steping on some toes in the process."
--ESPN.com

"Massively impressive reportage…a sort of Friday Night Lights-Blind Side mash-up."
--GQ.com

"Chronicles the dark side of grassroots basketball—one that many of us on the edges may think we understand but have never seen at this disturbing level of detail."
--The Chronicle of Higher Education

"An unflinching look at the seedy world of AAU basketball."
--Yahoo! Sports



Coverage from NPR
Advertisement