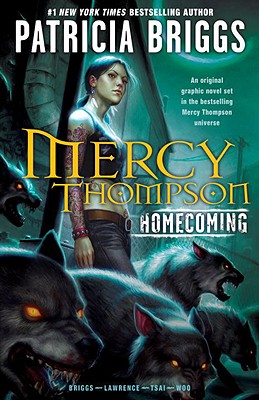 Homecoming (Hardcover)
Del Rey Books, 9780345509888, 1pp.
Publication Date: August 25, 2009
Description
Mercy Thompson is a walker, a magical being with the power to transform into a coyote. She lives on the fine line dividing the everyday world from a darker dimension, observing the supernatural community while standing apart.
When Mercy travels to the Tri-Cities of Washington for a job interview, she quickly finds herself smack-dab in the middle of a gang war between rival packs of werewolves. And as if fangs and fur weren t bad enough, Mercy must deal with the scariest creature of all: her mother, who is convinced that Mercy is making a mess of her life and determined to set her daughter on the right course.
The thrilling adventures of Mercy Thompson Moon Called, Blood Bound, and Iron Kissed have topped the New York Times bestseller list. Now Mercy makes her comics debut in an exclusive new story created by Patricia Briggs. Mercy Thompson: Homecoming is sure to please longtime fans and capture new ones with its mix of unforgettable characters and thrilling supernatural intrigue.
About the Author
Patricia Briggs is a #1 New York Times bestselling author who has written more than a dozen novels, including the first three books in her hit series about Mercedes Mercy Thompson, a VW mechanic who also happens to be a shapeshifter in touch with the strange, unseen world of vampires, werewolves, ancient fae, and other mystical creatures. Briggs lives in Washington. Francis Tsai is a freelance illustrator and concept designer. His clients include Marvel Comics, Dabel Brothers, Devil s Due Publishing, Top Cow Productions, Warner Bro., Wizards of the Coast, Rockstar Games, High Moon Studios, and ImagineFX magazine. He lives in San Diego. Amelia Woo is a Brazilian artist who has worked for Dark Horse and Marvel Comics, as well as a variety of smaller publishers."
Advertisement