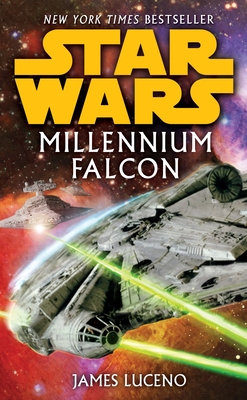 Millennium Falcon
Star Wars Legends (Star Wars - Legends)
Mass Market

* Individual store prices may vary.
Other Editions of This Title:
Paperback (3/1/2010)
Hardcover (10/21/2008)
Description
Climb aboard, buckle up, and prepare to jump to hyperspace for a dazzling adventure aboard the ship that launched a thousand fates.

Two years have passed since the death of the brutal Sith Lord Darth Caedus–once known as Jacen Solo. The galaxy is slowly healing from civil war, while Jacen's family and friends are left to mourn his loss alone. For Han and Leia, still grieving for their son, the only bright spot is Jacen's daughter, Allana, who has been given into their care. Now Allana introduces new adventure into her grandparents' lives when she discovers a strange device hidden aboard the Millennium Falcon–a discovery that sparks a fact-finding expedition to retrace the people, places, and events in the checkered history of the famous spaceship. But the Solos are not alone in their quest: Crime lords, galactic pirates, rogue politicians, and fortune hunters alike will race to a final standoff for a prize some will risk everything to find–and pay any cost to possess.
Del Rey, 9780345510051, 384pp.
Publication Date: November 24, 2009
About the Author
James Luceno is the New York Times bestselling author of the Star Wars novels Millennium Falcon, Dark Lord: The Rise of Darth Vader, Cloak of Deception, Labyrinth of Evil, as well as the New Jedi Order novels Agents of Chaos I: Hero's Trial and Agents of Chaos II: Jedi Eclipse, The Unifying Force, and the eBook Darth Maul: Saboteur. He is also the author of the fantasy novel Hunt for the Mayan Looking-Glass, available as an eBook. He lives in Annapolis, Maryland, with his wife and youngest child.