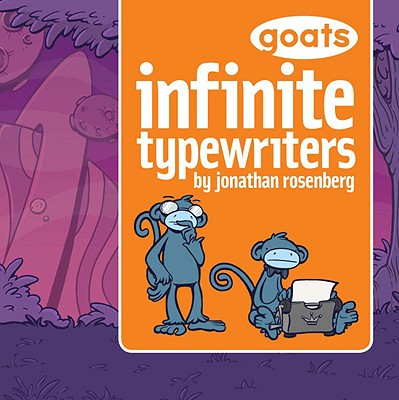 Goats Infinite Typewriters (Paperback)
Del Rey, 9780345510921, 176pp.
Publication Date: June 23, 2009
* Individual store prices may vary.
or
Not Currently Available for Direct Purchase
Description
It's not as if one decides to wake up one day, argue existentialism with livestock, and fly a spaceship to the center of the galaxy to meet, greet–and eat–God. It just sort of happens. At least it does in the world of Goats, the cult-hit webcomic wherein a clutch of brave if baffled barflies (including humans, chickens, and a cyborg goldfish) hit the interdimensional bricks to save the multiverse from certain doom kicked off by a cosmic computer glitch. You can't make this stuff up–unless you're one of the monkeys tapping on infinite typewriters who controls all reality. You'll see. . . .
Praise For Goats Infinite Typewriters…
"As pointed as it is random . . . Goats pulls off the difficult collision of the significant and the silly. . . . Jonathan Rosenberg's subversive, metafictional multiverse is no more chaotic or absurd than the real worlds it's made up of, and he rules it with a deft hand."—Stewart O'Nan, author of Snow Angels

"When Jonathan Rosenberg toils for our amusement, he hits the mark unerringly–and he doesn't have the simple decency to make it look difficult."—Jerry "Tycho" Holkins, co-creator of Penny Arcade

"You don't often hear the phrase 'epic comedy,' but that's the perfect description of Goats. Jonathan Rosenberg is the Tolkien of interdimensional corn lesbians."—Lore Sjöberg, co-founder of the Brunching Shuttlecocks

"The most important book about talking fish with imaginary girlfriends you'll ever read . . . a comic work of genius. I commend it to you highly." —Charles Stross, Hugo Award—winning author of Halting State

"This all has the refreshing, spontaneous, unforced high weirdness of the weirder Monty Python sketches, and it will reset your freakiness thermometer to a higher threshold than you thought possible."—Cory Doctorow, BoingBoing.net
Advertisement