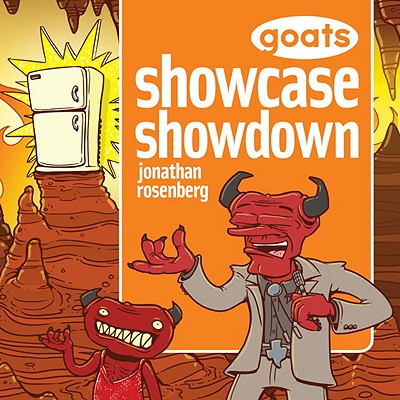 Goats Showcase Showdown (Paperback)
Del Rey, 9780345510945, 168pp.
Publication Date: May 25, 2010
* Individual store prices may vary.
or
Not Currently Available for Direct Purchase
Description
Book Three of The Infinite Pendergast Cycle


God is dead, reality isn't real, and the end of the multiverse is coming just a few short years from now. Most everyone is in agreement that this is problematic. Tech-geek barflies Jon and Phillip and their menagerie of mutant sidekicks are the only ones who can challenge the likes of goat demon Toothgnip, corporate demon One Death, and psycho chicken Oliver in order to stop the apocalypse. Which means everyone everywhere is almost certainly screwed. Goats: Showcase Showdown—the third collection of strips from the hit webcomic—continues the pandimensional party.
Praise For Goats Showcase Showdown…
"This all has the refreshing spontaneous unforced high weirdness of the weirder Monty Python sketches, and it will reset your freakiness thermometer to a higher threshold than you thought possible."—Cory Doctorow, author of Boing Boing
 
"Equal parts beer-soaked bar humor and psychedelic science fiction, blending two mutually exclusive elements into a fine, fine cocktail that makes you smarter the more you drink."—Rick Marshall, editor, MTV Splash Page

"Jonathan Rosenberg has perfected a concoction of bizarre plot developments and quietly absurd dialogue."
—Scott McCloud, author of Understanding Comics
 
"When Jonathan Rosenberg toils for our amusement, he hits the mark unerringly—and he doesn't have the simple decency to make it look difficult."—Jerry "Tycho" Holkins, co-creator of Penny Arcade
 
"Hilarious yet tender . . . the ultimate sci-fi adventure parody with an extra shot of human warmth slipped in." —NPR
 
Advertisement