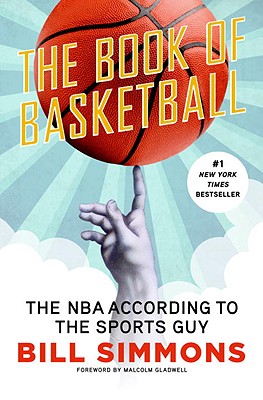 The Book of Basketball (Hardcover)
The NBA According to The Sports Guy
ESPN, 9780345511768, 736pp.
Publication Date: October 27, 2009
Other Editions of This Title:
Paperback (12/7/2010)
* Individual store prices may vary.
Description
There is only one writer on the planet who possesses enough basketball knowledge and passion to write the definitive book on the NBA.* Bill Simmons, the from-the-womb hoops addict known to millions as ESPN.com's Sports Guy, is that writer. And The Book of Basketball is that book.

Nowhere in the roundball universe will you find another single volume that covers as much in such depth as this wildly opinionated and thoroughly entertaining look at the past, present, and future of pro basketball.

From the age-old question of who actually won the rivalry between Bill Russell and Wilt Chamberlain to the one about which team was truly the best of all time, Simmons opens–and then closes, once and for all–every major pro basketball debate. Then he takes it further by completely reevaluating not only how NBA Hall of Fame inductees should be chosen but how the institution must be reshaped from the ground up, the result being the Pyramid: Simmons's one-of-a-kind, five-level shrine to the ninety-six greatest players in the history of pro basketball. And ultimately he takes fans to the heart of it all, as he uses a conversation with one NBA great to uncover that coveted thing: The Secret of Basketball.

Comprehensive, authoritative, controversial, hilarious, and impossible to put down (even for Celtic-haters), The Book of Basketball offers every hardwood fan a courtside seat beside the game's finest, funniest, and fiercest chronicler.



* More to the point, he's the only one crazy enough to try to pull it off.

About the Author
Bill Simmons writes "The Sports Guy" column for ESPN.com's "Page 2" and "ESPN: The Magazine." He is the author of Now I Can Die In Peace, founded the award-winning bostonsportsguy.com website, and was a writer for "Jimmy Kimmel Live." He commutes between his home in Los Angeles and Fenway Park.
Praise For The Book of Basketball: The NBA According to The Sports Guy…
"[A] slam dunk."—USA Today

"The work of a true fan . . . It might just represent the next phase of sports commentary."—The Atlantic

"May be one of those literary lollapaloozas that Simmons's fans must buy."—The New York Times
 
"Wildly prolific, ceaselessly witty, harmlessly crass, and generally wise, Simmons has built an everydude empire by triangulating the trashy pop-culture futon talk of Chuck Klosterman and the stats-heavy philosophizing of Malcolm Gladwell."—The Village Voice
 
"This is just plain fun. . . . The true NBA fan will dive into this hefty volume and won't resurface for about a week."—Booklist (starred review)
 
"The book flows much like Mr. Simmons's ESPN columns. . . . Opinion gushes out of him. But he backs it up with equal parts serious research and off-angle observations. . . . He has produced enough provocative arguments to fuel barstool arguments far into the future."—The Wall Street Journal

NAMED ONE OF THE BEST BOOKS OF THE YEAR BY THE SAN FRANCISCO CHRONICLE
or
Not Currently Available for Direct Purchase