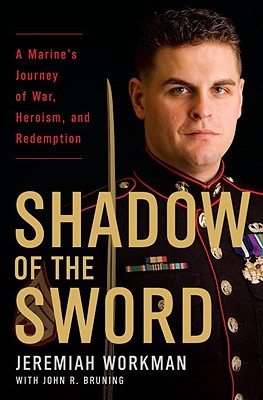 Shadow of the Sword: A Marine's Journey of War, Heroism, and Redemption (Hardcover)
A Marine's Journey of War, Heroism, and Redemption
Presidio Press, 9780345512123, 272pp.
Publication Date: September 15, 2009
* Individual store prices may vary.
or
Not Currently Available for Direct Purchase
Description
Awarded the Navy Cross for gallantry under fire, Staff Sergeant Jeremiah Workman is one of the Marine Corps' best-known contemporary combat veterans. In this searing and inspiring memoir, he tells an unforgettable story of his service overseas–and of the emotional wars that continue to rage long after our fighting men come home.

Raised in a tiny blue-collar town in Ohio, Jeremiah Workman was a handsome and athletic high achiever. Having excelled on the sporting field, he believed that the Marine Corps would be the perfect way to harness his physical and professional drives.

In the Iraqi city of Fallujah in December 2004, Workman faced the challenge that would change his life. He and his platoon were searching for hidden caches of weapons and mopping up die-hard insurgent cells when they came upon a building in which a team of fanatical insurgents had their fellow Marines trapped. Leading repeated assaults on that building, Workman killed more than twenty of the enemy in a ferocious firefight that left three of his own men dead.

But Workman's most difficult fight lay ahead of him–in the battlefield of his mind. Burying his guilt about the deaths of his men, he returned stateside, where he was decorated for valor and then found himself assigned to the Marine base at Parris Island as a "Kill Hat": a drill instructor with the least seniority and the most brutal responsibilities. He was instructed, only half in jest, to push his untested recruits to the brink of suicide. Haunted by the thought that he had failed his men overseas, Workman cracked, suffering a psychological breakdown in front of the men he was charged with leading and preparing for war.

In Shadow of the Sword, a memoir that brilliantly captures both wartime courage and its lifelong consequences, Workman candidly reveals the ordeal of post-traumatic stress disorder: the therapy and drug treatments that deadened his mind even as they eased his pain, the overwhelming stress that pushed his marriage to the brink, and the confrontations with anger and self-blame that he had internalized for years.

Having fought through the worst of his trials–and now the father of a young son–Workman has found not perfection or a panacea but a way to accommodate his traumas and to move forward toward hope, love, and reconciliation.
About the Author
Jeremiah Workman, an eight-year combat veteran of the United States Marine Corps, received his honorable discharge as a staff sergeant in 2009. He is the recipient of the Navy Cross, the second highest medal for valor. Workman has been profiled in "The Washington Post" and "USA Today," has appeared on Fox News and CNN, and spent a month in 2008 traveling the country as a featured speaker with the Vets for Freedom National Heroes Tour. His final assignment in the Marine Corps was with the Wounded Warrior Regiment, helping injured veterans. He lives in Virginia with his wife and young son.

John R. Bruning is the author or co-author of ten books, including "Ghost, The Devil's Sandbox, House to House," and "How to Break a Terrorist." He lives in Oregon with his wife and children.
Praise For Shadow of the Sword: A Marine's Journey of War, Heroism, and Redemption…
"A raw, heartfelt story of how a man of valor lost his bearings and eventually found the courage to share his story. Shadow of the Sword leaves you hoping and cheering for the happy ending that Workman deserves."—Bing West, author of The Strongest Tribe

"In writing this moving and incredibly honest book, Workman shows at least as much courage as he did in Fallujah. His story gives hope to anyone who struggles that they, too, can overcome if they just keep fighting—one day at a time, one battle at a time, one victory at a time."—Donovan Campbell, author of Joker One

"Workman shows unflinching honesty and gut twisting bravery by sharing with us his complicated journey to normalcy after his seemingly endless battle through hell. This may be the most important book of our Warrior generation and proves that Workman deserves to be in a separate class of American hero." —David Bellavia, author of House to House

"A searing account…In its depiction of combat, Shadow of the Sword ranks with Marcus Luttrell's Lone Survivor."—Wall Street Journal


"This superior addition to the literature on the Iraq War is an exceptionally vivid account of combat and its aftermath…[Workman] provides a harrowing level of detail about the combat…Workman's testimony gives hope that those suffering the nightmare of PTSD can free themselves sufficiently to avoid becoming additional casualties of the current war."—Booklist
Advertisement