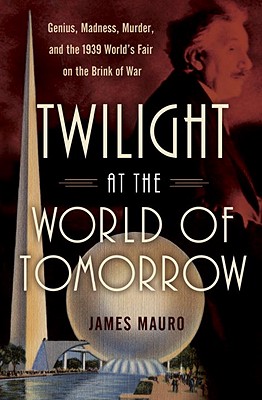 Twilight at the World of Tomorrow
Genius, Madness, Murder, and the 1939 World's Fair on the Brink of War
Hardcover

* Individual store prices may vary.
Description
The summer of 1939 was an epic turning point for America—a brief window between the Great Depression and World War II. It was the last season of unbridled hope for peace and prosperity; by Labor Day, the Nazis were in Poland. And nothing would come to symbolize this transformation from acute optimism to fear and dread more than the 1939 New York World's Fair.

A glorious vision of the future, the Fair introduced television, the fax machine, nylon, and fluorescent lights. The "World of Tomorrow," as it was called, was a dream city built upon a notorious garbage dump—The Great Gatsby's infamous ash heaps. Yet these lofty dreams would come crashing down to earth in just two years. From the fair's opening on a stormy spring day, everything that could go wrong did: not just freakish weather but power failures and bomb threats.

Amid the drama of the World's Fair, four men would struggle against the coming global violence. Albert Einstein, a lifelong pacifist, would come to question his beliefs as never before. From his summer home on Long Island, he signed a series of letters to President Roosevelt urging the development of an atomic bomb—an act he would later recall as "the one great mistake in my life."

Grover Whalen, the Fair's president, struggled in vain to win over dictators Benito Mussolini and Joseph Stalin, believing that his utopian vision had the power to stop their madness. And two New York City police detectives, Joe Lynch and Freddy Socha, who had been assigned to investigate a series of bomb threats and explosions that had terrorized the city for months, would have a rendezvous with destiny at the Fair: During the summer of 1940, in a chilling preview of things to come, terrorism would arrive on American shores—and the grounds of the World's Fair.

Yet behind this tragic tableau is a story as incredible as it is inspiring. With a colorful cast of supporting characters—including Mayor Fiorello La Guardia, Robert Moses, and FDR—Twilight at the World of Tomorrow is narrative nonfiction at its finest, a gripping true-life drama that not only illuminates a forgotten episode of the nation's past but shines a probing light upon its present and its future.
Praise For Twilight at the World of Tomorrow: Genius, Madness, Murder, and the 1939 World's Fair on the Brink of War…
"Mauro spices his story with tales of visiting presidents, kings, queens, politicians, sports heroes and movie stars … he wonderfully elaborates on the fair's movers and shakers … Mauro's story will likely appeal to fans of Erik Larson's The Devil in the White City … a delightful time capsule, skillfully unpacked." —Kirkus, starred
Ballantine Books, 9780345512147, 432pp.
Publication Date: June 22, 2010
About the Author
James Mauro is a former editor of "Spy "magazine and executive editor of "Cosmopolitan." Most recently he was editorial director for Moffly Media, publishers of the Connecticut periodicals Greenwich, Stamford, Westport, New Canaan Darien, and AtHome. His writing has been featured in Radar, Details, Spy, Psychology Today, and a host of other publications. He lives in Connecticut, where he is at work on his next book.
or
Not Currently Available for Direct Purchase