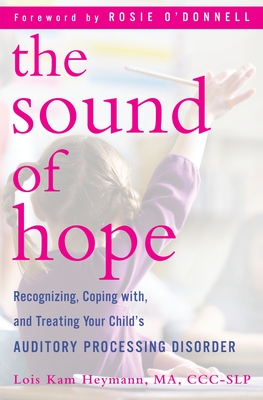 The Sound of Hope
Recognizing, Coping with, and Treating Your Child's Auditory Processing Disorder
Hardcover

* Individual store prices may vary.
Description
There is more to listening than just hearing.
 
A miraculous process that begins in the womb, learning to communicate is a vital part of expressing oneself and of understanding and interacting with the world. A child's ability to listen well affects every aspect of his or her life. But for some 1.5 million children in the United States who have normal hearing and intelligence, communication and language are blocked. Words are jumbled and distorted. These children have a hard time following directions and become frustrated in trying to make themselves understood, which often leads to unruly behavior, poor school performance, social isolation, and low self-esteem.

Auditory Processing Disorder (APD) affects the brain's ability to accurately process the sounds of speech, which in turn impedes the ability to communicate. Experts are just beginning to unlock the mystery of this confounding condition. As a result, APD is often undiagnosed or misdiagnosed. But hope is here. Now veteran speech-language pathologist Lois Kam Heymann offers the first practical guide to help parents dramatically improve the listening and language skills of their children, whether they have a diagnosed auditory processing disorder, slow language development—or simply need practice listening. Inside this reassuring, action-oriented book you'll find
 
• easy-to-identify milestones to help parents pinpoint challenges that may arise during each stage of their child's development from birth to age eight
• the tools and checklists needed to assist parents in recognizing APD early
• tips to distinguish APD from other listening/learning disorders, including ADD, ADHD, LPD, and PDD
• methods to encourage a child's natural listening abilities through books, stories, nursery rhymes, songs, lullabies, toys, and games
• home techniques to hone a child's auditory processing—whether he or she has severe APD limitations or just needs to build listening "muscles"
• specific suggestions on how to improve a child's listening skills outside the home—at school, during after-school activities, even when at a restaurant
• an analysis of traditional classroom settings and effective ways parents can advocate for better sound quality
• guidelines for finding the right professionals to work with your child
 
With hands-on ways for improving a child's ability to listen to instructions, process information, and follow directions, parents can turn simple activities into powerful listening lessons in only minutes a day. The bottom line: Learning how to listen in our noisy, complicated world is the key to a happy and engaged child.
Praise For The Sound of Hope: Recognizing, Coping with, and Treating Your Child's Auditory Processing Disorder…
"As a parent, nothing is more painful than to get a diagnosis that something is wrong with your child. No matter what the issue – auditory processing disorder, hearing impairment, or simple listening challenges – Lois Heymann's advice is both a great comfort and a practical roadmap to help children reach their potential. As a parent who personally benefitted from Lois's therapy sessions, I highly recommend this book for all families traveling down this road." —Lee Woodruff, author, Perfectly Imperfect

 
"With good listening comes understanding. When a child doesn't seem to be able to listen well, it's critical that parents get involved and nurture his or her listening skills. The Sound of Hope will provide you with great ideas and simple strategies to help them build up that 'muscle.'" —Jo Frost, SuperNanny, and author of Ask SuperNanny: What Every Parent Wants to Know

"Although this wonderfully practical, sensible, and accessible book targets parents raising children with auditory processing disorders, I encourage every parent to read it. Who doesn't need tips on how to help children listen? Heymann's suggestions are so practical and her thoughtful explanation of how each child is unique is brilliant. I underlined feverishly as I read this book, eager to pass along the advice to the many parents I know who want to help their children develop confidence and competence and become people who look forward to learning, socializing, and exploring."—Dale Atkins, Ph.D., author of Sanity Savers

Ballantine Books, 9780345512185, 256pp.
Publication Date: April 27, 2010
About the Author
Lois Kam Heymann, MA, CCC-SLP, is a recognized leader in the treatment of children with listening, learning, and auditory challenges. As a private speech and language pathologist, she has more than thirty years of experience working with families and also serves as a consultant to hospitals and schools, including the Children's Hearing Institute and more than a dozen school districts in and around New York City. A noted educator, Heymann teaches auditory therapy at the State University of New York at New Paltz and has presented hundreds of seminars and workshops nationally for doctors, speech and language pathologists, teachers, and parents. She lives in Rosendale, New York.
or
Not Currently Available for Direct Purchase