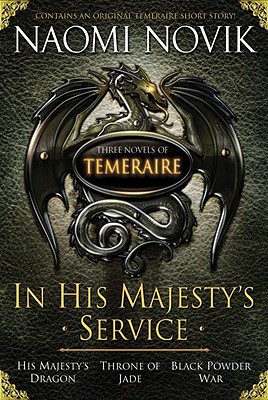 In His Majesty's Service
Three Novels of Temeraire (His Majesty's Service, Throne of Jade, and Black Powder War)
Hardcover

* Individual store prices may vary.
Description
Together in one volume, here are the first three novels in Naomi Novik's New York Times bestselling Temeraire series, combining the gripping history of the Napoleonic era, the thrill of Anne McCaffrey's Dragonriders of Pern books, and the excitement of Patrick O'Brian's seafaring adventures. In His Majesty's Service also includes an exclusive original Temeraire short story.

Capt. Will Laurence is serving with honor in the British Navy when his ship captures a French frigate harboring most a unusual cargo–an incalculably valuable dragon egg. When the egg hatches, Laurence unexpectedly becomes the master of the young dragon Temeraire and finds himself on an extraordinary journey that will shatter his orderly, respectable life and alter the course of his nation's history.

Thrust into England's Aerial Corps, Laurence and Temeraire undergo rigorous training while staving off French forces intent on breaching British soil. But the pair has more than France to contend with when China learns that an imperial dragon intended for Napoleon–Temeraire himself– has fallen into British hands. The emperor summons the new pilot and his dragon to the Far East, a long voyage fraught with peril and intrigue. From England's shores to China's palaces, from the Silk Road's outer limits to the embattled borders of Prussia and Poland, Laurence and Temeraire must defend their partnership and their country from powerful adversaries around the globe. But can they succeed against the massed forces of Bonaparte's implacable army?


Del Rey, 9780345513540, 832pp.
Publication Date: October 27, 2009
About the Author
Naomi Novik received the John W. Campbell Award for Best New Writer at the 2007 World Science Fiction Convention. Along with the three novels in this collection, she is the acclaimed author of Empire of Ivory and Victory of Eagles, the fourth and fifth volumes in the Temeraire series, which has been optioned by Peter Jackson, the Academy Award--winning director of the Lord of the Rings trilogy. A history buff with a particular interest in the Napoleonic era, Novik studied English literature at Brown University, then did graduate work in computer science at Columbia University before leaving to participate in the design and development of the computer game Neverwinter Nights: Shadows of Undrentide. Novik lives in New York City with her husband and six computers.
or
Not Currently Available for Direct Purchase