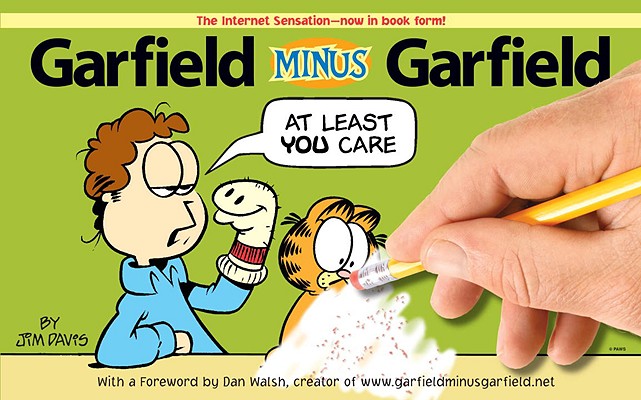 Garfield Minus Garfield (Paperback)
Ballantine Books, 9780345513878, 126pp.
Publication Date: October 28, 2008
Description
It's Garfield-as you've never seen him
Come savor the existential adventures of Jon Arbuckle in Garfield Minus Garfield. Based on the phenomenon ignited by Dan Walsh's hilarious and wildly popular webcomic (beloved by The New York Times and The Washington Post, and hailed as "inspired" by Garfield creator Jim Davis), Garfield Minus Garfield takes everyone's favorite fat cat out of the picture, leaving us with only the lonely ennui of Jon as he's left to voice thoughts about his own existence into an empty void.
With a Foreword by Dan Walsh, creator of www.garfieldminusgarfield.net.
About the Author
Jim Davis was born on July 28, 1945, in Marion, Indiana. He later attended Ball State University in Muncie, Indiana, where he distinguished himself by earning one of the lowest cumulative grade point averages in the history of the university. (Incidentally, a fellow classmate named David Letterman earned the other). The Garfield strip was born on June 19, 1978, syndicated in forty-one U.S. newspapers. Today it's syndicated in more than 2,100 newspapers worldwide with more than 200 million readers, leading Guinness World Records to name Garfield The Most Widely Syndicated Comic Strip in the World. Davis has had many successes with Garfield, including four Emmy Awards for Outstanding Animated Program and induction into the Licensing Hall of Fame (1998), but his most prized awards are from his peers in the National Cartoonist Society: Best Humor Strip (1981 and 1985), the Elzie Segar Award (1990), and the coveted Reuben Award (1990) for overall excellence in cartooning.
Advertisement