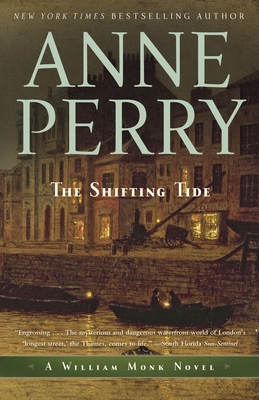 The Shifting Tide (Paperback)
Ballantine Books, 9780345514189, 327pp.
Publication Date: June 28, 2011
Description
William Monk knows London's streets like the back of his hand. But the river Thames and its teeming docks--where wharf rats and night plunderers ply their trades--is unknown territory. Only Monk's dire need for work persuades him to accept an assignment from shipping magnate Clement Louvain, to investigate the theft of a cargo of African ivory from Louvain's recently docked schooner, the Maude Idris. But why didn't Louvain report the ivory theft directly to the River Police? Another mystery is the appearance of a desperately ill woman who Louvain claims is the discarded mistress of an old friend. Is she connected to the theft, or to something much darker? As Monk endeavors to solve these riddles, he can't imagine the trap that will soon so fatefully ensnare him.
About the Author
Anne Perry is the bestselling author of two acclaimed series set in Victorian England: the William Monk novels, including Blind Justice and A Sunless Sea, the Charlotte and Thomas Pitt novels, including Death on Blackheath and Midnight at Marble Arch. She is also the author of a series of five World War I novels, as well as eleven holiday novels, most recently A New York Christmas, and a historical novel, The Sheen on the Silk, set in the Ottoman Empire. Anne Perry lives in Scotland and Los Angeles.
Praise For The Shifting Tide…
"Engrossing . . . The mysterious and dangerous waterfront world of London's 'longest street,' the Thames, comes to life."—South Florida Sun-Sentinel

"With her visionary sensibility, Anne Perry is the master of the 'you are there' school of hist-myst storytelling. . . . [Here are] scenes that could have come out of Dickens's Our Mutual Friend."—The New York Times Book Review

"As always, Perry uses her characters and story to comment on ethical issues that remain as relevant today as they were in Victorian times."—Publishers Weekly

"No one writes more elegantly than Perry, nor better conjures up the rich and colorful tapestry of London in the Victorian era."—The Plain Dealer
 
"Among the best [of the Monk books] . . . This one has all Perry's trademark atmosphere."—The Globe and Mail
Advertisement