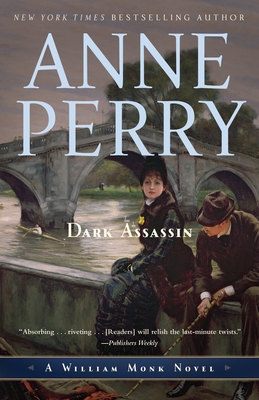 Dark Assassin (Paperback)
Ballantine Books, 9780345514202, 340pp.
Publication Date: October 4, 2011
Description
On a patrol boat near Waterloo Bridge, police superintendent William Monk notices a young couple engaged in an intense discussion. Seconds later, the two plunge to their deaths in the icy waters of the Thames. Was it an accident, a suicide, or a murder? Ever the investigator, Monk learns that the woman, Mary Havilland, had planned to marry the fair-haired man who shared her fate. He also discovers that Mary's father had recently died in a supposed suicide. But Mary's friends share their own darks suspicions with Monk, who now faces the mysteries surrounding "three" deaths. Aided by his intrepid wife, Hester, Monk searches for answers. From luxurious drawing rooms where powerful men hatch their unscrupulous plots, to the sewers beneath the city where poor folk fight crippling poverty, Monk must connect the clues before death strikes again.
About the Author
Anne Perryis the bestselling author of two acclaimed series set in Victorian England: the William Monk novels, including"Blind Justice"and"A Sunless Sea," the Charlotte and Thomas Pitt novels, including"Death on Blackheath"and"Midnight at Marble Arch."She is also the author of a series of five World War I novels, as well as eleven holiday novels, most recently"A New York Christmas, "and a historical novel, "The Sheen on the Silk, "set in the Ottoman Empire. Anne Perry lives in Scotland and Los Angeles."
Praise For Dark Assassin…
"Absorbing . . . riveting . . . [Readers] will relish the last-minute twists."—Publishers Weekly

"Brilliant . . . a page-turning thriller . . . blending compelling plotting with superbly realized human emotion and exquisite period detail."—Jeffery Deaver, author of The Burning Wire

"Few mystery writers this side of Arthur Conan Doyle can evoke Victorian London with such relish for detail and mood."—San Francisco Chronicle
 
"Mystery fans who haven't read Anne Perry are missing a great thing. Those who have probably don't need this advice, but Dark Assassin is a don't-miss thriller."—Omaha World-Herald
 
"You can count on a Perry tale to be superior."—The San Diego Union-Tribune
Advertisement