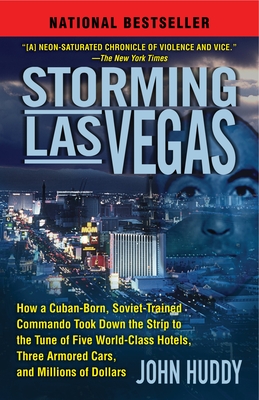 Storming Las Vegas: How a Cuban-Born, Soviet-Trained Commando Took Down the Strip to the Tune of Five World-Class Hotels, Three Armored Ca (Paperback)
How a Cuban-Born, Soviet-Trained Commando Took Down the Strip to the Tune of Five World-Class Hotels, Three Armored Ca
Ballantine Books, 9780345514417, 369pp.
Publication Date: April 28, 2009
Description
On September 20, 1998, Jose Vigoa, a child of Fidel Castro's revolution, launched what would be the most audacious and ruthless series of high-profile casino and armored car robberies that Las Vegas had ever seen. In a brazen sixteen-month reign of terror, he and his crew would hit the creme de la creme of Vegas hotels: the MGM, the Desert Inn, the New York--New York, the Mandalay Bay, and the Bellagio. The robberies were well planned and executed, and the police-"the stupids," as Vigoa contemptuously referred to them-were all but helpless to stop them. But Lt. John Alamshaw, the twenty-three-year veteran in charge of robbery detectives, was not giving up so easily. For him, Vigoa's rampage was a personal affront. And he would do whatever it took, even risk his badge, to bring Vigoa down.
About the Author
John Huddy, a network producer and print journalist for three decades, has won two Emmys for editorial writing and on-air commentary and other national awards for producing, newswriting, and documentary filmmaking. Huddy is a former Miami Herald columnist and critic whose print and broadcast subjects have included Charles Manson, Federico Fellini, O. J. Simpson, Steve Martin, Jim Morrison, Janis Joplin, and Burt Reynolds. He lives in Granada Hills, California. From the Hardcover edition.
Praise For Storming Las Vegas: How a Cuban-Born, Soviet-Trained Commando Took Down the Strip to the Tune of Five World-Class Hotels, Three Armored Ca…
"An amazing and absorbing story . . . [John] Huddy's vivid, visceral prose and lean narrative make reading about this episode of extreme criminal violence much more than a guilty pleasure."—Miami Herald

"Harrowing . . . Storming Las Vegas showcases Mr. Huddy's fine reporting and deft storytelling skill."—Wall Street Journal

"A gripping story of greed, violence, theft and public relations . . . a must for true-crime enthusiasts." —Publishers Weekly, starred review

"Revealing in what it shows about the criminal mind . . . [Huddy has] the perfect blend of skills and experience to tell the story of Vigoa."—Seattle Times

"A total page-turner . . . riveting from beginning to end." —Laura Ingraham, The O'Reilly Factor

"A thought-provoking, demented Horatio Alger story."—Entertainment Weekly
Advertisement