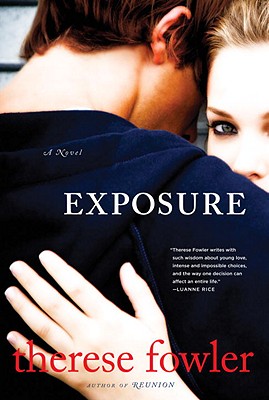 Exposure (Hardcover)
A Novel
Ballantine Books, 9780345515537, 384pp.
Publication Date: May 3, 2011
* Individual store prices may vary.
Description
In Exposure, Therese Fowler has written her most gripping novel to date—a ripped-from-the-headlines story of ardent young love and a nightmarish legal maelstrom that threatens to destroy two families.

Amelia Wilkes's strict father does not allow her to date, but that doesn't stop the talented, winsome high school senior from carrying on a secret romance with her classmate Anthony Winter. Desperately in love, the two envision a life together and plan to tell Amelia's parents only after she turns eighteen and is legally an adult. Anthony's mother, Kim, who teaches at their school, knows—and keeps—their secret. But the couple's passion is exposed sooner than planned: Amelia's father, Harlan, is shocked and infuriated to find naked pictures of Anthony on his daughter's computer. Just hours later, Anthony is arrested.

Despite Amelia's frantic protests, Harlan uses his wealth and influence with local law enforcement and the media to label Anthony a deviant who preyed on his innocent daughter. Spearheaded by a zealous prosecutor anxious to turn the case into a public crusade against "sexting," the investigation soon takes an even more disturbing and destructive turn.

As events spiral wildly out of control and the scandalous story makes national news, Amelia and Anthony risk everything in a bold and dangerous attempt to clear their names and end the madness once and for all.
 
A captivating page-turner, Therese Fowler's Exposure is also a deftly crafted, provocative, and timely novel that serves as a haunting reminder of the consequences of love in the modern age.
About the Author
Therese Fowler is the author of Souvenir, Reunion and Exposure. She has worked in the U.S. Civil Service, managed a clothing store, lived in the Philippines, had children, sold real estate, earned a B.A. in sociology, sold used cars, returned to school for her MFA in creative writing, and taught college undergrads about literature and fiction-writing -- roughly in that order.  With books published in nine languages and sold world-wide, Therese writes full-time from her home in Wake Forest, NC, which she shares with her husband, four amiable cats, and four nearly grown-up sons.
Praise For Exposure: A Novel…
Praise for Exposure:

"Provocative, timely, and compelling, Therese Fowler's Exposure will leave book clubs talking for hours." - Meg Waite Clayton, author of The Wednesday Sisters and The Four Ms. Bradwells
 
"Complex, gripping, and rich with emotion, Fowler's 21st-century Romeo and Juliet beautifully blends modern day drama with carefully drawn examinations of family, loyalty, honesty, and the power of love." - Eleanor Brown, New York Times bestselling author of The Weird Sisters
 
"Telling a page-turning story you can't wait to pass on to your book club or your best friend, Therese Fowler brings the full force of her talent to bear on a gorgeous, heartrending story of young love and thwarted parental ambitions." - Joshilyn Jackson New York Times bestselling author of Backseat Saints

"Headlines rarely reveal the truth. Exposure does. I truly couldn't put it down." - Randy Susan Meyers, author of The Murderer's Daughters

 
Souvenir
 
"Compelling . . . The characters are likable, troubled and human, and they're well worth following on their journey."—USA Today
 
"Souvenir is indeed one of those books you want to sit down and finish all at once. . . . Fowler's storytelling is what makes this novel shine."—Durham Herald-Sun
 
"A touching . . . novel with a stunning ending."—Daily American
 
Reunion
 
"Beautifully written and full of heart, Reunion is a satisfying tale perfect for a weekend escape from real life."—Bookreporter.com

"Highly emotional, often hysterically funny prose."—Wichita Falls Times Record News
 
"An enjoyable, breezy escape."—Booklist

or
Not Currently Available for Direct Purchase