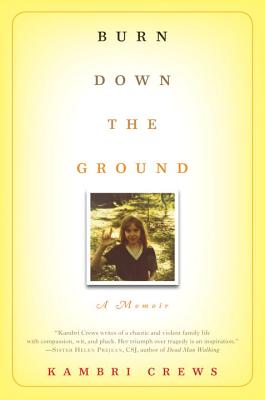 Burn Down the Ground
A Memoir
Hardcover

* Individual store prices may vary.
Description
In this powerful, affecting, and unflinching memoir, a daughter looks back on her unconventional childhood with deaf parents in rural Texas while trying to reconcile it to her present life—one in which her father is serving a twenty-year sentence in a maximum-security prison.
 
As a child, Kambri Crews wished that she'd been born deaf so that she, too, could fully belong to the tight-knit Deaf community that embraced her parents. Her beautiful mother was a saint who would swiftly correct anyone's notion that deaf equaled dumb. Her handsome father, on the other hand, was more likely to be found hanging out with the sinners. Strong, gregarious, and hardworking, he managed to turn a wild plot of land into a family homestead complete with running water and electricity. To Kambri, he was Daniel Boone, Frank Lloyd Wright, Ben Franklin, and Elvis Presley all rolled into one.
 
But if Kambri's dad was Superman, then the hearing world was his kryptonite. The isolation that accompanied his deafness unlocked a fierce temper—a rage that a teenage Kambri witnessed when he attacked her mother, and that culminated fourteen years later in his conviction for another violent crime. 
 
With a smart mix of brutal honesty and blunt humor, Kambri Crews explores her complicated bond with her father—which begins with adoration, moves to fear, and finally arrives at understanding—as she tries to forge a new connection between them while he lives behind bars. Burn Down the Ground is a brilliant portrait of living in two worlds—one hearing, the other deaf; one under the laid-back Texas sun, the other within the energetic pulse of New York City; one mired in violence, the other rife with possibility—and heralds the arrival of a captivating new voice.
Praise For Burn Down the Ground: A Memoir…
"Surprisingly funny and uplifting, this touching account of a deaf family living on the edge is raw and candid. Crews writes beautifully, honestly, and with deep affection about her conflicted relationship with her father and her love for her family, in good times and bad."—Paula Froelich, author of the New York Times bestseller Mercury in Retrograde

"Kambri Crews is an exceptional writer. Her voice is fresh, fearless, and singular—with an ability to craft a story you will never be able to forget, but also won't be able to stop talking about."—Mandy Stadtmiller, columnist, New York Post

"A riveting American tale, delivered with clear eyes and great love. In the face of incredible hardship, Crews endures."—Jane Borden, author of I Totally Meant to Do That

"Addictive and heartbreaking, Kambri's memoir demonstrates both true grit and a sense of humor that exists only among the very sharpest of those who have survived extraordinary childhoods."—Julie Klausner, author of I Don't Care About Your Band

"Imagine living in a tin shed, growing up as the hearing child of deaf parents, seeing your father attack your mother, or sneaking gum into prison. Those are just half of the challenges Kambri Crews faced growing up. Burn Down the Ground is a story of triumph in the face of poverty, alcoholism, violence, and, worst of all, heartbreakingly powerful love."—Annabelle Gurwitch, co-author of You Say Tomato, I Say Shut Up

"In my eyes, Kambri Crews is a heroine. It takes a person—a survivor—with a miraculous magnitude of strength to be able to see the human side of her father in spite of what he did."—Julie Rems-Smario, executive director, DeafHope

"Kambri Crews is a survivor, and a fiercely witty one. Her memories of growing up with two volatile deaf parents in the backwoods of Texas will inspire, delight, horrify, and amaze you. The matter-of-fact way in which she describes traumatic and painful events puts me in mind of Jeannette Walls's The Glass Castle, Dorothy Allison's Bastard Out of Carolina, and Rick Bragg's All Over but the Shoutin'. Read this unforgettable account of an American family's tragic explosion and the tough-as-nails young woman who walked out of the ashes to tell her tale."—Sara Benincasa, author of Agorafabulous

"As well-paced and stirring as a novel.  In her fluid narrative … Crews neither wallows in self-pity nor plays for cheap black-comedic yuks.  Instead, this book stands out for what matters most: Crews' story, bluntly told." —Elle Magazine
 
"[An] unsparing yet compassionate account of [Crews'] dysfunctional childhood and the father who both charmed and victimized her family… Poignant and unsettling." —Kirkus
 
"Harrowing…What Kambri has done is face the truth with an unflinching eye… a remarkable odyssey of scorched earth, collateral damage, and survival… intensely readable." —Publishers Weekly
 
"[A] vivid and affectionate depiction of life with two deaf parents.. like Mary Karr's The Liar's Club, Burn Down the Ground interweaves the toughness and laughter of an impoverished Texan childhood… Her story is a testament to her resilience, and to the power of recognition and forgiveness to heal childhood wounds." —BookPage
 
 
"[Crews] renders a compelling testament to the strength of the human spirit."
—Booklist
 

Villard Books, 9780345516022, 334pp.
Publication Date: February 28, 2012
About the Author
Kambri Crews owns her own PR and production company specializing in comedy. A renowned storyteller and public speaker, she has appeared at the Moth, Upright Citizen's Brigade, and SXSW Interactive. She splits her time between Astoria, Queens, and Cochecton, New York, with her husband, comedian Christian Finnegan.
or
Not Currently Available for Direct Purchase