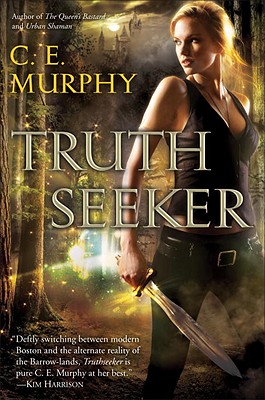 Truthseeker (Worldwalker Duology #1) (Paperback)
Del Rey, 9780345516060, 336pp.
Publication Date: August 31, 2010
* Individual store prices may vary.
Description
ACROSS TWO EXTRAORDINARY WORLDS, TRUTH IS THE DEADLIEST MAGIC
 
Gifted with an uncanny intuition, Lara Jansen nonetheless thinks there is nothing particularly special about her. All that changes when a handsome but mysterious man enters her quiet Boston tailor shop and reveals himself to be a prince of Faerie. What's more, Dafydd ap Caerwyn claims that Lara is a truthseeker, a person with the rare talent of being able to tell truth from falsehood. Dafydd begs Lara to help solve his brother's murder, of which Dafydd himself is the only suspect.

Acting against her practical nature, Lara agrees to step through a window into another world. Caught between bitterly opposed Seelie forces and Dafydd's secrets, which are as perilous as he is irresistible, Lara finds that her abilities are increasing in unexpected and uncontrollable ways. With the fate of two worlds at stake and a malevolent entity wielding the darkest of magic, Lara and Dafydd will risk everything on a love that may be their salvation—or the most treacherous illusion of all.
About the Author
C. E. Murphy is the author of the epic fantasy series The Inheritors' Cycle (comprising the novels The Queen's Bastard and The Pretender's Crown), as well as two urban fantasy series, The Walker Papers and The Negotiator Trilogy. She has also written action/romance titles under the pseudonym Cate Dermody. She lives in Ireland.
Praise For Truthseeker (Worldwalker Duology #1)…
"Truthseeker is pure C.E. Murphy at her best.  Deftly switching between modern Boston and the alternate reality of the Barrow-lands, Truthseeker builds to an ending that will have you screaming for more."—Kim Harrison, author of the Hollows series

"C.E. Murphy can write anything. But when she turned her talents to a new series with the novel Truthseeker, she took fantasy, time travel, and overlapping worlds to new heights. I cannot wait for book 2!"—Faith Hunter, author of the Jane Yellowrock series

 
"Truthseeker is a thoroughly enchanting tale, with more magical twists and turns than a fairyland road. Through the six senses of the indomitable Lara Jensen, I was immersed in and transfixed by both worlds--Boston and the Barrow-lands--and was sorry to leave them behind on the last page. This master of urban fantasy has done it again!"—Jeri Smith-Ready, author of Shade and Bring on the Night


or
Not Currently Available for Direct Purchase