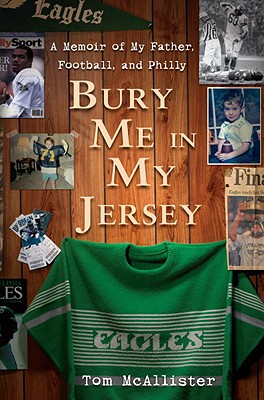 Bury Me in My Jersey: A Memoir of My Father, Football, and Philly (Hardcover)
A Memoir of My Father, Football, and Philly
Villard, 9780345516510, 240pp.
Publication Date: May 18, 2010
* Individual store prices may vary.
or
Not Currently Available for Direct Purchase
Description
Born and raised in Eagles country, Tom McAllister learns from his father and brother the rules of being a football fan. Spending Sundays in the infamous 700 level of Veterans Stadium, or sitting in front of the TV with his father in a nearby recliner, Tom sees both the ugly and beautiful sides of Philadelphia football. Like all true Philadelphians, he connects with the players. From icons Chuck Bednarik and Steve Van Buren to modern-day greats Randall Cunningham, Donovan McNabb, and Brian Dawkins and controversial stars such as Terrell Owens, the Eagles players become a part of McAllister's life. Watching them every Sunday, he tries to develop his own identity as a fan. Torn between his father's calm and levelheaded fandom and the rowdy, profane, and violent crowds of Philadelphia legend, Tom struggles to achieve balance. 

As a rabid Eagles fan, Tom McAllister experiences plenty of defeats and disappointments, but his biggest challenge is coping with the premature loss of his father to cancer. In Bury Me in My Jersey, McAllister explores the connection between his dedication to the Eagles and the death of his father. He details the intense bonds—between fathers and sons, among friends, and even between a city and its football team—and chronicles the joys and sorrows, victories and failures, of a lifetime of sports obsession.

Any fan can relate: Tom drinks to excess, spends countless hours every week posting to an online Eagles message board, and spies on players in the fruit aisle of the supermarket. Without the example of his father to guide him, Tom often finds himself stumbling off track. But it is his girlfriend and eventual wife, LauraBeth, who keeps him grounded as he matures into adulthood.

A touching, funny, beautifully crafted memoir, Bury Me in My Jersey is not only a marvelous tribute to a father, a way of life, and a team and its devoted followers but also a love letter to the city of Philadelphia.
About the Author
Tom McAllister is a graduate of the Iowa Writers' Workshop and La Salle University in Philadelphia. His work has appeared in numerous publications, including "Barrelhouse, Black Warrior Review, " and "Storyglossia." A lecturer in the English department at Temple University, he lives with his wife and two dogs in New Jersey, a ten-minute drive from Lincoln Financial Field, where the Eagles play their home games.
Praise For Bury Me in My Jersey: A Memoir of My Father, Football, and Philly…
"In the tradition of the great Frederick Exley's A Fan's Notes, Tom McAllister's debut memoir is far more than a recounting of one man's hapless love affair with one of America's most benighted football franchises. Within these unflinchingly honest pages lies a profound and personal meditation on manhood itself—on fathers and sons, on the inheritance of place, on the customs of a tribe and finding one's place within it. Tom McAlister isn't just a writer on his way. He's already here. A wonderful book."—Justin Cronin, author of The Passage
 
"Bury Me in My Jersey is a treasure chest of a memoir, brimming over with insight, urgency, exhilaration, and grief. Above all else it is a lovesong to a particular family, a particular city, and a particular team, but its reach is wider than that; for a reader like me, with no particular passion for football, it offers a rare and captivating window into the enthusiasm of the sports fan."—Kevin Brockmeier, author of The Brief History of the Dead

"Tom McAllister's accomplishment in Bury Me In My Jersey is considerable: I'll never be able to watch the Eagles play again without thinking about him and his remarkable book. A funny, confessional and often moving account populated with characters who make you wonder where the world is headed even as you love and cheer for them." —John Ed Bradley, author of It Never Rains in Tiger Stadium
 
"The story Tom McAllister tells in his ferociously smart new memoir is by turns hilarious, appalling, and heartbreaking—and often all three at once. It's about sports fandom the way Moby Dick is about whaling, brilliantly evoking its own little corner of the world even as it addresses big and even incendiary subjects with fearless honesty. It's about more than just football, in other words, and you don't have to care about the Philadelphia Eagles to be entertained and moved by this witty and humane book."—James Hynes, author of Publish and Perish, The Lecturer's Tale, and Kings of Infinite Space
Advertisement