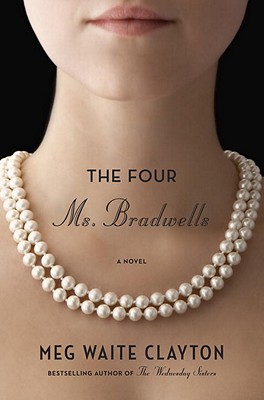 The Four Ms. Bradwells
Hardcover

* Individual store prices may vary.
Other Editions of This Title:
Paperback (12/20/2011)
Hardcover, Large Print, Large Print (6/1/2011)
MP3 CD (3/22/2011)
Compact Disc (3/22/2011)
Description
Meg Waite Clayton's national bestseller The Wednesday Sisters was a word-of-mouth sensation and book club favorite. Now the beloved author is back with a page-turning novel that explores the secrets we keep, even from those closest to us, and celebrates the enduring power of friendship.

Mia, Laney, Betts, and Ginger, best friends since law school, have reunited for a long weekend as Betts awaits Senate confirmation of her appointment to the Supreme Court. Nicknamed "the Ms. Bradwells" during their first class at the University of Michigan Law School in 1979—when only three women had ever served full Senate terms and none had been appointed to the Court—the four have supported one another through life's challenges: marriages and divorces, births and deaths, career setbacks and triumphs large and small. Betts was, and still is, the Funny One. Ginger, the Rebel. Laney, the Good Girl. And Mia, the Savant.

But when the Senate hearings uncover a deeply buried skeleton in the friends' collective closet, the Ms. Bradwells retreat to a summer house on the Chesapeake Bay, where they find themselves reliving a much darker period in their past—one that stirs up secrets they've kept for, and from, one another, and could change their lives forever.

Once again, Meg Waite Clayton writes inspiringly about the complex circumstances facing women and the heartfelt friendships that hold them together. Insightful and affecting, The Four Ms. Bradwells is also a captivating tale of how far people will go to protect the ones they love.
Praise For The Four Ms. Bradwells…
"A must read...This would be a good book to share with your Mom. And your best friend."—Chicago Examiner

"A great read for any woman...It invites the question: would you encourage your own daughter to follow in your footsteps--and why?"--Glen Ellyn Tribune

"Every reader searches for that perfect book: the one that gives you a giddy feeling of anticipation when you think of it waiting for you on your night table. The Four Ms. Bradwells succeeds easily in meeting this mark...Clayton's lyrical prose is as soothing as it is stimulating, resulting in a stunning work of art."—Woodbury magazine

"Deftly plotted and paced, the novel also shows the author's savvy sense for dialogue and the rhythms of longtime friendships...Clayton keeps the plot layered and intriguing, but never confusing, as she shepherds her characters through major life events including marriages, mother-daughter tensions, career achievements and setbacks, births and deaths. Dark secrets from past dark nights on the island are revealed carefully, all in good time."--Palo Alto Weekly

"It's rare that I come across a book that I immediately want to give to my best friends. This is one of them: a heartwarming page-turner about smart women and the complicated nature of female friendships. By the end you'll wish that you could join the Ms. Bradwells for lunch."—Katie Crouch, New York Times bestselling author of Girls in Trucks and Men and Dogs

"Fans of Elizabeth Noble, Ann Hood, Elin Hilderbrand, and other luminaries of female friendship fiction will find much to captivate them."--Library Journal 

"Gifted, entertaining, and mysterious—a gem of a novel! I love a good 'girlfriend' novel—and The Four Ms. Bradwells, like its predecessor, The Wednesday Sisters, did not disappoint...I predict this will be a popular book club title—pick up a copy!"—Book Club Cheerleader

"A riveting tale of friendship and the secrets we keep...examines the complex and deep friendships of women and the lengths they will go to protect the people they love."--Tucson Citizen

"A thriller of a whodunit, a tender lovestory among friends, and [a novel about] the exquisite rockiness of the mother-daughter bond...If you liked Clayton's last novel, The Wednesday Sisters, you'll probably like this one too."--AnnArbor.com

"Sure to be [a] success...a wonderful look at the complexities of friendship, the bonds between mothers and daughters, and the intricate interrelationships women form."--Bookreporter

"Book clubs will love The Four Ms. Bradwells...Clayton neatly binds her exploration of the changing roles of women both in law and society into the mystery that has driven the women to the island."--Colloquium

"The accomplished career gals at the center of Clayton's satisfying third novel are strong characters we can relate to."--More

"My first five star read of 2011...I cannot remember the last time I read a novel that had such richly drawn characters. I loved each of these women."--TheBookGirl

"Should naturally become a book club favorite."--Basil & Spice 

"This is a take on the four women-doing-something-together novel, but this one is better...Really good...Highly recommended."--Book Maven Bethanne Patrick on NY1

"A treat...[Clayton] has the wonderful ability to create memorable characters and an intriguing story...As was the case with The Wednesday Sisters, I think The Four Ms. Bradwells lends itself to a fantastic discussion. I'm betting that this book will also be a big hit with female book clubs."--Booking Mama

"Simply awesome...This friendship was about the most realistic that I've ever read...I didn't want to finish the book--the journey was just so rewarding!"--Reading on a Rainy Day

"An exquisitely written novel about the heartbreaking and heartwarming moments of life and friendship and everything in between, The Four Ms. Bradwells will resonate with you long after you've turned the final page on these wonderful women. Don't miss a second of their journey."—Allison Winn Scotch, New York Times bestselling author of Time of My Life and The One That I Want

"Meg Waite Clayton writes with intelligence, wisdom, and humor about women's friendships. To steal from Holden Caulfield, after reading The Four Ms. Bradwells, you'll wish the characters were terrific friends of yours and you could call them up on the phone whenever you felt like it."—Tatjana Soli, New York Times bestselling author of The Lotus Eaters

"Clayton has an exceptional ability to get to the heart of women's friendships and to truthfully depict the complexity therein. I was pleased that The Four Ms. Bradwells boasted wonderful friendships, but also engaging main characters that I really sympathized with...An excellent book club pick."--S. Krishna's Books

"As she did in The Wednesday Sisters, Meg Waite Clayton introduces us to a group of extraordinary women…A fine, smart, compelling novel about the deep friendships that guide and nurture our most difficult choices."—Elizabeth Brundage, author of A Stranger Like You and The Doctor's Wife

"Clayton's latest novel concerns four highly successful women exploring their friendship, along with the secrets they have shared and kept from each other for years…This one meets all the requirements of Book Club Lit."—Kirkus Reviews

"The Four Ms. Bradwells are women we admire, amazing and strong, who are doing something special...[This novel] is well written and beautifully told."--Romance Reviews Today

"The strength and love that stretches through three generations of women is endearing."--Romantic Times

"A stirring and compelling novel about women's changing roles."--Booklist

"A compelling contemporary novel that questions the power of love, loyalty and friendship."--Walnut Creek Magazine

"A wonderfully written story...Highly recommended...I truly felt as if I knew each of the characters, as though they were sitting in front of me, talking like old friends. At several points in the book, I quite literally had to put the book down and take a breather, the emotions so real and vivid that I experienced them myself."--Jenn's Bookshelf

"I have read The Wednesday Sisters by Meg Waite Clayton and loved it, so I was excited to hear she had a new book coming out...I liked that the story was told from the perspective of all four of the women and the way it jumped from past to present. Each of the women have their own past and secrets, which intersect with the others, no more so than the one they all share."--Books I Think You Should Read

"It was truly enjoyable to see how their friendship developed over the years...I especially liked how the story of them receiving their nicknames became part of who they were as a group...A beautiful story about love, friendship and what people are willing to sacrifice in exchange for those things."--Chick Lit Reviews

"A great read. The premise is fabulous and the plot well developed."--Great Thoughts

"Meg Waite Clayton's gift for portraying the complex issues women face made her a bestseller with The Wednesday Sisters. She returns with The Four Ms. Bradwells, a multi-layered, character-driven novel about the enduring power of female friendship."--World Talk Radio

"The four women in this book were beautifully written to be strong, smart, honest, flawed and loyal...I love a novel that makes me feel or makes me think.  Meg Waite Clayton has succeeded in doing both.  Bravo!"--Alison's Book Marks

"Great for book clubs. By the time I finished it I felt a sort of renewed and increased desire to achieve some of the goals I've laid out for myself and assert my independence as a woman. There was also a lot to think about in terms of friendships...Definitely a read that made me feel Girl Power!"--Take Me Away

"Fantastic...I really loved this book and I highly recommend it...Clayton has an amazing ability to write complex, interesting characters that truly feel like real people...I'm loving this trend of books written about smart women (The Weird Sisters, I'm looking at you too) and I really hope it continues."--Book Addiction

"A story of friendship, of courage, of breaking down barriers in society, in our families, and in our own hearts...Very quickly, the novel becomes a mystery story, as well as a lovingly written ensemble piece about what it was like to be a young woman in the 1970′s."--Ravenous Reader

"A wonderfully written novel that will bring back past friendships. Also, anyone who likes a good whodunit will really like this as you just have to wait until the last pages to find out who the culprit really is."--Night Owl Reviews

"Rich....strong and well-written characters...A great story about relationships and bonds that we form in the beginning of adult life sustaining us through the ages and mothers (who doesn't like to read a good mother story?)."--BookBelle

"A very well-written story, and a book I would recommend...Packs a punch."--Proud Book Nerd

Praise for The Wednesday Sisters
 
"This generous and inventive book is a delight to read, an evocation of the power of friendship to sustain, encourage, and embolden us. Join the sisterhood!"—Karen Joy Fowler, author of The Jane Austen Book Club
 
"Readers will be swept up by this moving novel about female friendship."—Booklist
 
"A heartwarming novel about the joys and complications of friendship, and an inspiring story for anyone who has dared to dream big."—Michelle Richmond, author of The Year of Fog
 
"If you've ever had a best friend, buy a copy for her."—Masha Hamilton, author of 31 Hours
 
"A remarkable group of women . . . This book reminded me why I love to read."—Lolly Winston, author of Happiness Sold Separately
Ballantine Books, 9780345517081, 336pp.
Publication Date: March 22, 2011
About the Author
Meg Waite Clayton is the author of the national bestseller "The Wednesday Sisters "and "The Language of Light, " a finalist for the Bellwether Prize. A graduate of the University of Michigan Law School, she lives in Palo Alto, California, with her husband and their two sons.
or
Not Currently Available for Direct Purchase