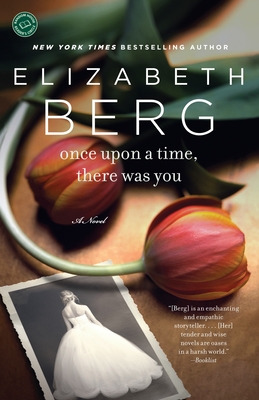 Once Upon a Time, There Was You (Paperback)
Ballantine Books, 9780345517326, 285pp.
Publication Date: October 4, 2011
Description
Even on their wedding day, John and Irene sensed that they were about to make a mistake. Years later, divorced, dating other people, and living in different parts of the country, they seem to have nothing in common--nothing except the most important person in each of their lives: Sadie, their spirited eighteen-year-old daughter. Feeling smothered by Irene and distanced from John, Sadie is growing more and more attached to her new boyfriend, Ron. When tragedy strikes, Irene and John come together to support the daughter they love so dearly. What takes longer is to remember how they really feel about each other. Elizabeth Berg's immense talent shines in this unforgettable novel about the power of love, the unshakeable bonds of family, and the beauty of second chances.
About the Author
Elizabeth Berg is the author of many bestselling novels, as well as two collections of short stories and two works of nonfiction. Open House was an Oprah's Book Club selection, Durable Goods and Joy School were selected as ALA Best Books of the Year, and Talk Before Sleep was short-listed for an ABBY Award. Berg has been honored by both the Boston Public Library and the Chicago Public Library, and is a recipient of the New England Booksellers Award for her body of work. Her writing has been translated into twenty-seven languages, and she adapted her novel Pull of the Moon into a play that has been successfully performed on two stages in the Chicago area. Berg lives in Chicago. From the Hardcover edition.
Praise For Once Upon a Time, There Was You…
"[Berg] is an enchanting and empathic storyteller. . . . [Her] tender and wise novels are oases in a harsh world."—Booklist

"Hard to put down . . . This addictive read shows anew what a wonderful writing talent Berg is: strong characters illuminate a tender story about what makes marriage work (or not), and how family binds itself together despite things that pull it apart."—Library Journal
 
"The prolific Berg delivers the goods in this perceptive novel. . . . Berg's masterful portraits and keen insight makes for a memorable read."—Kirkus Reviews

Praise for Elizabeth Berg
 
"[Berg] has a knack for taking you right into the soul of her characters, as they respond to joy and tragedy in a perfectly imperfect way."—Chicago Sun-Times, about The Last Time I Saw You
 
"Pitch-perfect . . . [encompasses] everything you've ever felt, but couldn't put into tangible words."—Chicago Tribune, about The Day I Ate Whatever I Wanted
Advertisement