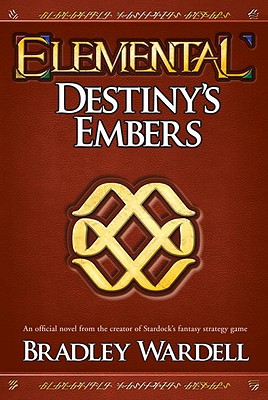 Elemental: Destiny's Embers (Paperback)
Destiny's Embers
Del Rey Books, 9780345517869, 532pp.
Publication Date: August 24, 2010
* Individual store prices may vary.
or
Not Currently Available for Direct Purchase
Description
At a frontier outpost on the fringes of the civilized world, an orphaned messenger named Xander witnesses the destruction of all he knows at the hands of the Fallen, the great enemy thought vanquished during the War of Magic. Abruptly, Xander's life is changed forever. Now he must seek out an ancient artifact of legendary power in the hopes that it can stop the Fallen hordes from destroying the entire kingdom. Little does he realize that the hope of all mankind rests on his young shoulders, as powers of unimaginable might set out to stop him at all costs. Aided by his friend Genica, a mysterious thief named Vreen, and a crafty Sion of unknown loyalty, Xander journeys into the heart of the world, where long-hidden secrets will be revealed that could shatter the delicate balance established by the great Cataclysm a thousand years earlier.

About the Author
Brad Wardell is the President & CEO of Stardock, a Midwestern software company. Mr. Wardell is the lead designer of Elemental: War of Magic and is active in software development, designing and coding many Stardock products. His other activities include being a Microsoft MVP, blogger, podcaster and featured columnist. Wardell is a graduate of Western Michigan University where he met his wife Debbie Wardell, with whom he has three children. In his free time he enjoys beekeeping.
Advertisement