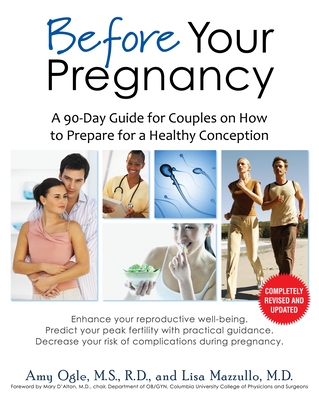 Before Your Pregnancy (Paperback)
A 90-Day Guide for Couples on How to Prepare for a Healthy Conception
Ballantine Books, 9780345518415, 612pp.
Publication Date: May 24, 2011
* Individual store prices may vary.
Description
Now completely revised and updated, the classic guide that helps mothers- and fathers-to-be conceive more easily and boost the odds of a healthy pregnancy
 
Covering preconception and interconception (between-pregnancy) well-being for women and men, Amy Ogle and Lisa Mazzullo draw on new research from their complementary fields of expertise and reveal how good preconception health can lower the risk of pregnancy complications and improve lifelong health. Why a ninety-day guide? It takes that long for sperm to mature, and at least that much time for the prospective mother to ensure that her body becomes pregnancy-ready. In a warm, intelligent style, the authors address up-to-date topics such as age, heredity, vaccinations, supplements, and weight. In easily accessible chapters, this guide covers such topics as
 
• Nutrition: meal makeovers plus new facts (and fiction) about fish, omega-3s, vitamins, and herbs
• Personal readiness: how to assess emotional, financial, and physical readiness, including a preconception-friendly exercise program, plus advice for avid athletes
• Becoming an informed patient: choosing a doctor, insurance coverage, baby-friendly medications, and the latest genetic screening guidelines
• Women's health: expanded coverage of gynecologic and medical conditions affecting fertility and pregnancy (including bariatric surgery and physical disabilities), and steps to create a welcoming womb by optimizing immune health
• Environment: a roundup of environmental exposures and travel tips
• Men's health: practical lifestyle advice for men to help maximize the number and health of sperm
• Conception: clear signs that predict when to "start trying," and the truth behind common myths
• Infertility: reassuring options for reproductive assistance
• Interconception health: the best plan for pregnancy recovery, before trying for another
• Resources: questionnaires for your preconception medical visit, and charts to track fertility signs
About the Author
Amy Ogle, M.S., R.D., is a registered dietitian, exercise physiologist, and ACE-certified personal trainer.
 
Lisa Mazzullo, M.D., is a practicing OB/GYN and assistant professor of OB/GYN at Northwestern University Medical School.
Praise For Before Your Pregnancy: A 90-Day Guide for Couples on How to Prepare for a Healthy Conception…
"Many people don't realize that the most important time for doing things to improve the chances for having a healthy pregnancy outcome is actually before conceiving that pregnancy. Before Your Pregnancy is a wonderful and invaluable resource for couples planning a pregnancy. I highly recommend this book."
—Peter Bernstein, MD, MPH, Professor of Clinical Obstetrics and Gynecology and Women's Health, Director of the Fellowship Program in Maternal Fetal Medicine, Montefiore Medical Center/Albert Einstein College of Medicine
 
"Optimal preconceptional care is essential for a successful pregnancy. As Amy Ogle and Lisa Mazzullo have shown, in this beautifully executed book, there is much more to preconceptional care than folic acid supplementation. This is a comprehensive piece that synthesizes all of the important medical, dietary, and lifestyle considerations for families anticipating pregnancy. Before Your Pregnancy is a wonderful resource that I will be thrilled to share with my patients."
—Clarissa Bonanno, MD, Columbia University Department of Obstetrics and Gynecology
 
"Before Your Pregnancy is a comprehensive, refreshing, and contemporary review of the complex issues that impact women and their pregnancies. With so much misinformation concerning pregnancy now available 24/7 on the Internet and other media outlets, this book should be required reading for women planning a pregnancy and their health care providers. It is well written and evidence based and is an enjoyable and educational read. I wholeheartedly recommend it!"
—Lee P. Shulman, MD, The Anna Ross Lapham Professor in Obstetrics and Gynecology, Feinberg School of Medicine of Northwestern University
 
"Before Your Pregnancy will be recommended to all my fertility patients as an evidenced based, friendly, participative guide to a successful conception and healthy pregnancy. It is by far the most complete resource I have reviewed, and I am certain it will provide a great benefit to many couples and the health of their future children!"
—Judy Simon, MS, RD, CD, CHES, Fertility Nutrition Specialist, Mind Body Nutrition PLLC and University of Washington Medical Center
 
"I congratulate the author-clinicians for delivering this comprehensive, up-to-date, evidence-based medical guide to optimizing a couple's health in order to achieve the best possible outcome for their pregnancy. Every patient in my practice could benefit from reading this book."
—Christopher Sipe, MD, Fertility Center of Illinois
 
"What makes this book a standout is the encouraging tone. I have read many books about pregnancy and fertility, and this one feels like the advice that a caring, trusted friend would give you. Infertility is a stressful and emotional issue, and this book eases your mind at the same time that it arms you with the knowledge and information you need to prepare your body and mind for pregnancy. Whether you have struggled with infertility or not, Before Your Pregnancy is a valuable resource for women whose goal is to be healthy and (eventually!) pregnant."
—Margaret G.
 
"Finally! A comprehensive yet easy-to-read book to help women and men prepare emotionally and physically for the joy of pregnancy! I would recommend this book to anyone who is thinking about having a baby, including my clients who have PCOS or struggle with eating disorders and body-weight issues."
—Angela Grassi, MS, RD, LDN, co-author of The PCOS Workbook: Your Guide to Complete Physical and Emotional Health and author of The Dietitian's Guide to Polycystic Ovary Syndrome
 
"A comprehensive and informative book serving as a knowledge source for nurse practitioners and women of childbearing age. Before Your Pregnancy is something I'll share with my graduate students."
—Janie Daddario, MSN, WHNP, Director of the Women's Health Nurse Practitioner Program, Vanderbilt University School of Nursing
 
"Ogle, a registered dietician, exercise physiologist, and ACE-certified personal trainer, and Mazzullo, an OB-GYN, wrote the first edition of this book in 2002. Here, they present the latest information and research to help couples prepare their bodies, minds, and bank accounts for the arrival of a child. The authors begin with chapters that help couples examine their stress levels, lifestyle habits, and home and work environments. They move on to how to choose a doctor or midwife, medical conditions affecting conception, genetic factors, chronic health conditions, and things that men can do to assure conception. Good nutrition, exercise, and the right drugs and supplements are vital for both partners, the authors hold. There is also coverage of infertility issues. Appendixes offer income and expense worksheets, dietary reference intake charts, charts for tracking menstrual cycles, and resources for safety information. VERDICT An outstanding book that fills a gap in public and consumer health library collections. There are many books on pregnancy and infertility, but none addresses preparation for conception in depth as this one does."
—Barbara M. Bibel, Oakland P.L., CA, Library Journal
or
Not Currently Available for Direct Purchase