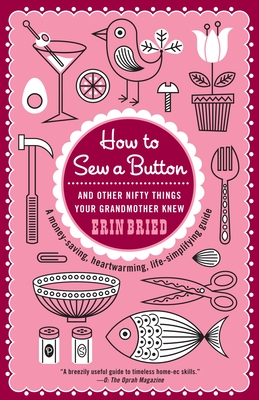 How to Sew a Button
And Other Nifty Things Your Grandmother Knew
Paperback

* Individual store prices may vary.
Description
Waste not, want not. This crafty guide perfect for anyone looking to enjoy the simple pleasures of life.

Nowadays, many of us "outsource" basic tasks. Food is instant, ready-made, and processed with unhealthy additives. Dry cleaners press shirts, delivery guys bring pizza, gardeners tend flowers, and, yes, tailors sew on those pesky buttons. But life can be much simpler, sweeter, and richer–and a lot more fun, too! As your grandmother might say, now is not the time to be careless with your money, and it actually pays to learn how to do things yourself!

Practical and empowering, How to Sew a Button collects the treasured wisdom of nanas, bubbies, and grandmas from all across the country–as well as modern-day experts–and shares more than one hundred step-by-step essential tips for cooking, cleaning, gardening, and entertaining, including how to

• polish your image by shining your own shoes
• grow your own vegetables (and stash your bounty for the winter)
• sweeten your day by making your own jam
• use baking soda and vinegar to clean your house without toxic chemicals
• feel beautiful by perfecting your posture
• roll your own piecrust and find a slice of heaven
• fold a fitted sheet to crisp perfection
• waltz without stepping on any toes

Complete with helpful illustrations and brimming with nostalgic charm, How to Sew a Button provides calm and comfort in uncertain times. By doing things yourself, with care and attention, you and your loved ones will feel the pleasing rewards of a job well done.
Praise For How to Sew a Button: And Other Nifty Things Your Grandmother Knew…
"How to Sew a Button is a must-have book for anyone who wants to reap the wisdom of our grandmothers.  I learned so much from my grandmother—ironing, how to bake the perfect cheesecake, as well as other cherished life-long tips—but what I learned most from her was how to enjoy these everyday tasks and the true essence of life.  The grandmothers in this book are inspiring to all of us."—Cat Cora, Iron Chef and author of Cooking from the Hip

"Erin Bried makes being happy and healthy so simple and fun. She's a girl after my own heart!"—Jillian Michaels, Biggest Loser trainer and author of Master Your Metabolism

"Thank goodness for grandmothers and thank goodness for Erin Bried, who compiled his compendium of useful, clever, need-to-know advice, wisdom and practical information. With this book, every woman will feel they are at their grandmother's knee, learning the most vital life skills any of us need to be smarter, happier and better people too. Happy reading!"—Lucy Danziger, Editor-in-Chief, SELF magazine

"How to Sew a Button is fun, funny, and empowering. With high good humor, Bried provides instructions on how to do really useful things. Take control of your life with this great handbook. It'll give you confidence. Learn and enjoy!"—Mildred A. Kalish, author of Little Heathens: Hard Times and High Spirits on an Iowa Farm During the Great Depression

 "Erin Bried's How to Sew a Button is full of crystal clear, friendly, and funny instructions on how to do hundreds of little things that your mother forgot to teach you-not just sewing on buttons, filleting fish, and making gravy, but balancing your checkbook, tying a necktie, and (my personal favorite) how to waltz. A fun, valuable home book for just about anyone, male or female."—Cheryl Mendelson, author of Home Comforts

"A breezily useful guide to timeless home-ec skills."—O Magazine

"If you wish you could hem your pants without waiting for the tailor or unclog a drain without paying a plumber, you need to read How to Sew a Button...[it] might save you money, time, and lots of frustration.—Redbook

"Combating domestic illiteracy one button at a time, How to Sew a Button is a refreshing take on DIY and self-care, valuable for women at any stage of life."—Bookpage

"The perfect book for these hard economic times when money is tight, but ingenuity is plentiful…As comforting as a hand-sewn quilt, and filled with beguilingly retro illustrations, the tips are a snap, empowering, and fun…Bolstered with nostalgic charm, every page is filled with age-old wisdom for brand new do-it-yourself empowerment."—Boston Globe

"How to Sew a Button is a handy guide to running your household and, in many ways, your life."—Washington Post

"For the domestically challenged among us, there is hope. Her name is Erin Bried."—Detroit Free Press

"Charming and timely. Unlike dry household manuals or tomes of thrifty tips, this is filled with brief, clear, step-by-step advice coupled with good-natured humor and the loving spirits of grandmothers, teaching us to take good care of ourselves, our relationships, and our treasures. Even readers who learned practical household skills from their elders will relish its reminders on the soft skills involved in being a good friend or fine neighbor, volunteering, and speaking up at city hall."—Library Journal

"Each [tip] is written in a practical yet humor filled tone — as if your best friend suddenly morphed into a Donna Reed-Tina Fey hybrid."—ErinCooks.com

 
Ballantine Books, 9780345518750, 304pp.
Publication Date: December 15, 2009
About the Author
Erin Bried is a Senior Staff Writer at SELF magazine, where she's penned nearly 200 stories, including 60 cover stories, in the past nine years. In addition to interviewing and profiling celebrities such as Angelina Jolie, Cameron Diaz, Jennifer Aniston and Sheryl Crow, she covers health, fitness, nutrition and psychology. Formerly, Bried was a Senior Editor at Glamour, a contributor at Golf For Women magazine and a Senior Editor/Writer at Condé Nast's Women's Sports & Fitness. She lives in Brooklyn, New York.