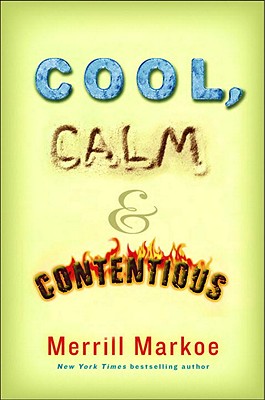 Cool, Calm & Contentious: Essays (Hardcover)
Essays
Villard, 9780345518910, 288pp.
Publication Date: November 1, 2011
* Individual store prices may vary.
or
Not Currently Available for Direct Purchase
Description
In this hilarious collection of personal essays, New York Times bestselling author Merrill Markoe reveals, among other things, the secret formula for comedy: Start out with a difficult mother, develop some classic teenage insecurities, add a few relationships with narcissistic men, toss in an unruly pack of selfish dogs, finish it off with the kind of crystalline perspective that only comes from years of navigating a roiling sea of unpleasant and unappeasable people, and—voilà!—you're funny!

But in Cool, Calm & Contentious, Markoe also reveals something more: herself. This is by far her most personal, affecting collection yet—honest, unapologetic, often painful, but always shot through with the bracing, wicked sense of humor that has made her such a beloved and incisive observer of life, both human and canine. In Cool, Calm & Contentious, she goes there: from the anal-retentive father who once spent ten minutes lecturing Markoe's forty-year-old, Ph.D.-wielding brother on how to fold a napkin, to the eternally aggrieved mother who took pleasure in being unpleasant to waiters and spent most of her life, Markoe says, in "varying degrees of pissed off"; from the way she surrendered her virginity as a freshman in college (to her, it was "something to be gotten rid of quickly, then never discussed again, like body odor"), to why, later in life, she ultimately came to find dogs so much more appealing than humans, Markoe holds nothing back. It's all here, in all its messy, poignant glory, and told the way only Merril Markoe knows how—with honesty, wit, and bite.

Cool, Calm & Contentious offers something for everyone—fans of humorous essays, fans of memoir, fans of great writing and finely drawn characters, fans of dogs, fans of talking dogs, and fans of reading about mothers who are so difficult and demanding they actually make you feel good about your own life. But most of all, this book is for the many fans of Merrill Markoe, who will finally get a chance to learn what makes her tick—and what makes her so funny and wise.
About the Author
Emmy Award-winning writer Merrill Markoe lives in Los Angeles, California, the garden spot of America, with four dogs and a man. She has authored three books of humorous essays and the novels "Nose Down, Eyes Up; Walking in Circles Before Lying Down; "and "It's My F---ing Birthday" and co-authored (with Andy Prieboy) the novel "The Psycho Ex Game." A lot of additional information about her--including a long bio, goofy videos, etc.--can be found at merrillmarkoe.com. After great amounts of hesitation, she is also on Facebook. But since she thinks about pulling the page down on a daily basis, check fast.
Praise For Cool, Calm & Contentious: Essays…
Advance praise for Cool, Calm & Contentious
 
"Now that I've read Merrill Markoe's latest book, I've learned a lot—about virginity, fetishism, sociopaths and narcissists, and how she explained the BP oil spill to her dogs. Also that Merrill is funnier, smarter, and more honest than anyone any of us knows. Just accept it—I have."—Winnie Holzman, creator of My So-called Life, co-author of Wicked

"Alarming and reassuring . . . Wait, that's impossible."—George Meyer, writer, The Simpsons

PRAISE FOR MERRILL MARKOE
 
Nose Down, Eyes Up
 
"Read this novel for its nose-to-the-ground wisdom, for its unsentimental take on family, and for the funniest, furriest pack of jokesters this side of the Marx Brothers."—O: The Oprah Magazine
 
"Whimsical . . . an ideal place to bury your nose."—Los Angeles Times
 
"Hilarious."—Publishers Weekly
 
Walking in Circles Before Lying Down
 
"Bound to make you laugh out loud."—People (four stars)
 
"Fun and charming . . . So spin around three or four times, curl up with your four-legged friend and enjoy."—Fort Worth Star-Telegram
 
"A delight."—Boston Sunday Globe
Advertisement