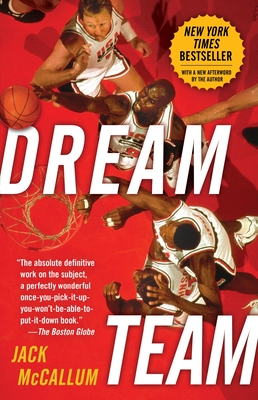 Dream Team (Paperback)
How Michael, Magic, Larry, Charles, and the Greatest Team of All Time Conquered the World and Changed the Game of Basketball Forever
Ballantine Books, 9780345520494, 400pp.
Publication Date: April 9, 2013
Other Editions of This Title:
Digital Audiobook (8/12/2012)
MP3 CD (8/13/2012)
Paperback (8/1/2019)
Hardcover (7/10/2012)
Pre-Recorded Audio Player (9/1/2012)
Compact Disc (8/13/2012)
Compact Disc (8/13/2012)
* Individual store prices may vary.
Description
NEW YORK TIMES BESTSELLER
 
Acclaimed sports journalist Jack McCallum delivers the untold story of the greatest team ever assembled: the 1992 U.S. Olympic Men's Basketball Team. As a writer for Sports Illustrated, McCallum enjoyed a courtside seat for the most exciting basketball spectacle on earth, covering the Dream Team from its inception to the gold medal ceremony in Barcelona. Drawing on fresh interviews with the players, McCallum provides the definitive account of the Dream Team phenomenon. He offers a behind-the-scenes look at the controversial selection process. He takes us inside the team's Olympic suites for late-night card games and bull sessions where superstars like Michael Jordan, Magic Johnson, and Larry Bird debated the finer points of basketball. And he narrates a riveting account of the legendary intrasquad scrimmage that pitted the Dream Teamers against one another in what may have been the greatest pickup game in history. In the twenty years since the Dream Team first captivated the world, its mystique has only grown. Dream Team vividly re-creates the moment when a once-in-a-millennium group of athletes came together and changed the future of sports—one perfectly executed fast break at a time.
 
With a new Afterword by the author
 
"The absolute definitive work on the subject, a perfectly wonderful once-you-pick-it-up-you-won't-be-able-to-put-it-down book."—The Boston Globe
 
"An Olympic hoops dream."—Newsday
 
"What makes this volume a must-read for nostalgic hoopsters are the robust portraits of the outsize personalities of the participants, all of whom were remarkably open with McCallum, both then and now."—Booklist (starred review)
About the Author
Jack McCallum is the author of Seven Seconds or Less and a longtime member of the staff of Sports Illustrated. He has edited the weekly SCORECARD section of the magazine, has written scripts for various SI Sportsman of the Year shows, and is currently a contributor to the magazine and SI.com. He has won the Curt Gowdy Award from the Naismith Memorial Basketball Hall of Fame and the National Women Sports Foundation Media Award and teaches college journalism. He lives with his wife in Bethlehem, Pennsylvania.
Praise For Dream Team: How Michael, Magic, Larry, Charles, and the Greatest Team of All Time Conquered the World and Changed the Game of Basketball Forever…
"The absolute definitive work on the subject, a perfectly wonderful once-you-pick-it-up-you-won't-be-able-to-put-it-down book."—The Boston Globe
 
"An Olympic hoops dream."—Newsday
 
"What makes this volume a must-read for nostalgic hoopsters are the robust portraits of the outsize personalities of the participants, all of whom were remarkably open with McCallum, both then and now."—Booklist (starred review)
 
"One of the best basketball books you'll ever read."—The New York Post
 
"A great read for basketball junkies."—Los Angeles Times
 
"[A] stellar retrospective."—The New York Times

"The Dream Team was one of a kind, and so is this fascinating account of the best basketball team of all time. Jack McCallum, the consummate basketball insider, lures you into the back rooms, living rooms, and locker rooms of this volatile group of superstars with revealing, colorful anecdotes that will make you laugh, cheer, and gasp. This is a terrific read by an all-star journalist."—Jackie MacMullan, New York Times bestselling co-author of When the Game Was Ours
 
"Perfect book, perfect subject, perfect writer. Dream Team is one of the best sports books I have ever read—a riveting inside look at a once-in-a-lifetime squad at a once-in-a-lifetime moment in time. Jack McCallum has pieced together a masterpiece."—Jeff Pearlman, New York Times bestselling author of Sweetness and Boys Will Be Boys
 
"Jack McCallum is one of my favorite writers on the NBA. If Jack writes it, even if I know the story, I want to read it. He reflects the best of his longtime residence in the glory days of Sports Illustrated: You can see the event, but you still want to know what the reporter has to say about it. Dream Team is a wonderful look back at what will live on not only as one of the NBA's great times but as a summary of its golden era. Jack beautifully blends what happened then with where-are-they-now? anecdotes, taking you behind the locker-room door with the greatest names of their era. This is such a wonderful read, you can't help but smiling."—Sam Smith, New York Times bestselling author of The Jordan Rules