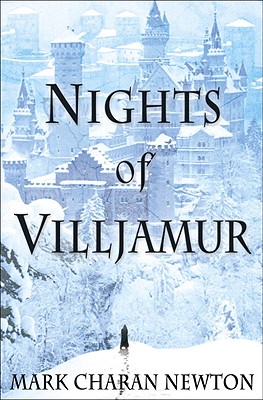 Nights of Villjamur (Hardcover)
Spectra, 9780345520845, 448pp.
Publication Date: June 29, 2010
Other Editions of This Title:
Digital Audiobook (6/29/2010)
Paperback (5/24/2011)
Compact Disc (6/30/2010)
MP3 CD (6/30/2010)
Compact Disc (6/30/2010)
* Individual store prices may vary.
Description
Following in the footsteps of writers like China Miéville and Richard K. Morgan, Mark Charan Newton balances style and storytelling in this bold and brilliant debut. Nights of the Villjamur marks the beginning of a sweeping new fantasy epic.

Beneath a dying red sun sits the proud and ancient city of Villjamur, capital of a mighty empire that now sits powerless against an encroaching ice age. As throngs of refugees gather outside the city gates, a fierce debate rages within the walls about the fate of these desperate souls. Then tragedy strikes—and the Emperor's elder daughter, Jamur Rika, is summoned to serve as queen. Joined by her younger sister, Jamur Eir, the queen comes to sympathize with the hardships of the common people, thanks in part to her dashing teacher Randur Estevu, a man who is not what he seems.

Meanwhile, the grisly murder of a councillor draws the attention of Inspector Rumex Jeryd. Jeryd is a rumel, a species of nonhuman that can live for hundreds of years and shares the city with humans, birdlike garuda, and the eerie banshees whose forlorn cries herald death. Jeryd's investigation will lead him into a web of corruption—and to an obscene conspiracy that threatens the lives of Rika and Eir, and the future of Villjamur itself.
 
But in the far north, where the drawn-out winter has already begun, an even greater threat appears, against which all the empire's military and magical power may well prove useless—a threat from another world.
 
About the Author
Mark Charan Newton was born in 1981 and lives in Nottingham. Nights of Villjamur is the first book in the Legends of the Red Sun series.
Praise For Nights of Villjamur…
 
"A dark epic which shows its debt to Gormenghast: death stalks the shadows and scheming, idiosyncratic characters have their own agendas. This is fantasy with vast scope and ambition . . . a complex, eldritch vision."
—The Guardian (U.K.)
 
"A smart and accomplished debut, stylishly wrought, melding noir detective story with strange creatures . . . refreshingly deft storytelling."
—Sci-Fi-London
 
"A great book that takes old tropes and reimagines them into something new and memorable . . . an assured tale written with style, intelligence and skill."
—SFF World
 
"While the sun over Villjamur is dying, Mark Charan Newton's star as a writer is burning with a fierce talent."
—Stephen Hunt, author of The Kingdom Beyond the Waves

or
Not Currently Available for Direct Purchase