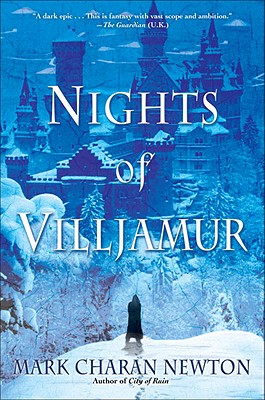 Nights of Villjamur (Paperback)
Spectra Books, 9780345520852, 450pp.
Publication Date: May 24, 2011
* Individual store prices may vary.
or
Not Currently Available for Direct Purchase
Description
Beneath a dying red sun sits the proud and ancient city of Villjamur, capital of a mighty empire where humans coexist with the birdlike garda race, the reptilian rumel who can live for hundreds of years, and the eerie banshees whose forlorn cries herald death. But now all life is threatened by an encroaching ice age. Throngs of refugees gather outside the city gates, while within, tragedy forces the Emperor's elder daughter, Jamur Rika, to assume the throne. Joined by her younger sister, Jamur Eir, the new queen takes pity on the common people and takes counsel from dashing teacher Randur Estevu, who is not what he seems. Meanwhile, a grisly murder draws rumel investigator Rumex Jeryd into a web of corruption and an obscene conspiracy that imperils the lives of Rika and Eir and the future of Villjamur itself. But far north, where the drawn-out winter has already begun, an even greater danger appears, against which all the empire's military and magical power may be useless a threat from another world.
About the Author
Mark Charan Newton was born in 1981 and lives in Nottingham. Nights of Villjamur is the first book in the Legends of the Red Sun series. From the Hardcover edition.
Praise For Nights of Villjamur…
"A dark epic . . . This is fantasy with vast scope and ambition."—The Guardian (U.K.)

"Highly recommended . . . Reminiscent in scope and texture of the novels of China Miéville and Sarah Monette, [Mark Charan] Newton's compelling and visionary debut approaches epic fantasy with a fresh eye."—Library Journal (starred review)

"Compelling . . . [an] impressive debut . . . Newton handles his multilayered world and diverse cast of characters with the assurance of an experienced author."—Publishers Weekly (starred review)
 
"A great novel . . . both satisfying and intriguing . . . The characters are genuine, the action is well paced."—SF Crowsnest
Advertisement