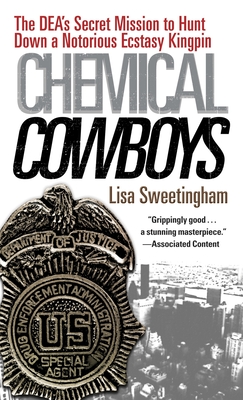 Chemical Cowboys: The DEA's Secret Mission to Hunt Down a Notorious Ecstasy Kingpin (Mass Market Paperbound)
The DEA's Secret Mission to Hunt Down a Notorious Ecstasy Kingpin
Ballantine Books, 9780345521156, 498pp.
Publication Date: June 22, 2010
Description
In 1995, after receiving a tip from an informant that a new drug called Ecstasy was being pushed in Manhattan's nightclubs, DEA agent Robert Gagne embarked on a mission to unravel one of the world's most lucrative drug-trafficking networks. Chemical Cowboys tracks Gagne as he infiltrates New York's club scene, uncovering a multimillion-dollar criminal empire that spans continents. At its helm is Oded "Fat Man" Tuito, an Israeli fugitive and elusive drug kingpin who combines Wall Street business savvy with old-fashioned street smarts and a taste for violence. A taut behind-the-scenes glimpse into an international criminal enterprise, Chemical Cowboys is a riveting tale of one man's obsessive pursuit of justice--and the personal cost of that obsession.
About the Author
Journalist Lisa Sweetingham has written for the New York Times, Parade, Spin, Time Out New York, Health Affairs, and many other publications. Previously she covered high-profile murder trials and Supreme Court nomination hearings for Court TV online. Sweetingham is a graduate of the Columbia University Graduate School of Journalism. She resides in Los Angeles. CHEMICAL COWBOYS is her first book. From the Hardcover edition.
Praise For Chemical Cowboys: The DEA's Secret Mission to Hunt Down a Notorious Ecstasy Kingpin…
 
"Grippingly good . . . a stunning masterpiece."—Associated Content
 
"An extraordinary, fearlessly investigated tale . . . the closest you'll ever get to the inner workings of a globe-spanning, high-stakes DEA investigation without a badge, a gun, and a grand jury subpoena."—Chris Ayres, author of Death by Leisure
  
"A gripping international cat-and-mouse-and-Club-Kids thriller."—Kirkus Reviews, starred review
Advertisement