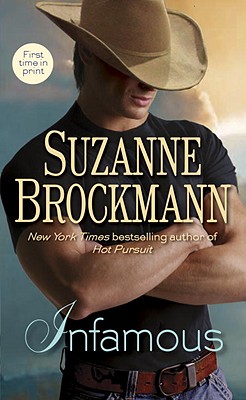 Infamous (Mass Market Paperbound)
Ballantine Books, 9780345521200, 433pp.
Publication Date: July 27, 2010
Description
In her first paperback original in more than six years, New York Times bestselling author Suzanne Brockmann delivers an unforgettable novel of contemporary romance and thrilling suspense. When history professor Alison Carter became a consultant to the film version of the Wild West legend she'd dedicated her career to researching, she couldn't possibly have known that she would not only get a front-row seat to a full-blown Hollywood circus but would innocently witness something that would put her life in peril. Nor did she expect that a tall stranger in a cowboy hat would turn the movie--and her world--completely upside down. A. J. Gallagher didn't crash the set in dusty Arizona to rub elbows with Hollywood's elite. Unable to ignore ghosts from the past that refuse to stay buried, A. J. came to put an end to the false legend that has tarnished the reputation of his family. But when he confronts Alison, sparks fly. And when Alison is targeted by ruthless criminals, suddenly she and A .J. must face the intense attraction that threatens to consume them--and survive the danger that threatens their very lives.
About the Author
After childhood plans to become the captain of a starship didn't pan out, Suzanne Brockmann took her fascination with military history, her respect for the men and women who serve, her reverence for diversity, and her love of storytelling and explored brave new worlds as a New York Times bestselling romance author. Over the past twenty years, she has written more than fifty novels, including her award-winning Troubleshooters series about Navy SEAL heroes and the women--and sometimes men--who win their hearts. In addition to writing books, Suzanne Brockmann has co-produced a feature-length movie, the award-winning romantic comedy The Perfect Wedding, which she co-wrote with her husband, Ed Gaffney, and their son, Jason. She has also co-written a YA novel, set in the world of her paranormal Fighting Destiny series, with her daughter, Melanie. Find Suzanne Brockmann on Facebook, follow her on Twitter, and visit her website to find out more about upcoming releases and appearances.
Praise For Infamous…
"Brockman is one of the superstars of romantic suspense."—Dallas Morning News
Advertisement