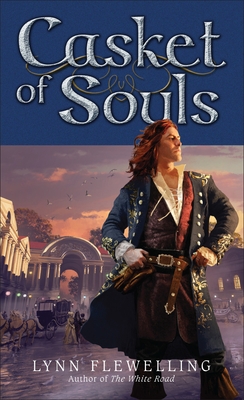 Casket of Souls (Mass Market Paperbound)
Spectra Books, 9780345522306, 476pp.
Publication Date: May 29, 2012
Description
The Nightrunners are back in this gripping novel full of Lynn Flewelling's trademark action, intrigue, and richly imagined characters.

More than the dissolute noblemen they appear to be, Alec and Seregil are skillful spies, dedicated to serving queen and country. But when they stumble across evidence of a plot pitting Queen Phoria against Princess Klia, the two Nightrunners will find their loyalties torn as never before. Even at the best of times, the royal court at Rhiminee is a serpents' nest of intrigue, but with the war against Plenimar going badly, treason simmers just below the surface.
And that's not all that poses a threat: A mysterious plague is spreading through the crowded streets of the city, striking young and old alike. Now, as panic mounts and the body count rises, hidden secrets emerge. And as Seregil and Alec are about to learn, conspiracies and plagues have one thing in common: The cure can be as deadly as the disease.
About the Author
Lynn Flewelling is best known for her Nightrunner series, as well as the Tamir Triad, and her work appears in a dozen languages. She also maintains a lively online presence with her website and her Live Journal, "Talk in the Shadows." Born in northern Maine, Flewelling is happily transplanted in Redlands, California, with her husband and too many animals.
Praise For Casket of Souls…
"Flewelling is the best thing that could have happened to the fantasy genre."—BookWeb
Advertisement