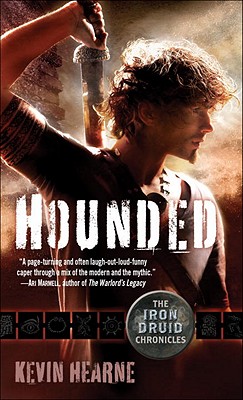 Hounded
The Iron Druid Chronicles, Book One
Mass Market

* Individual store prices may vary.
Other Editions of This Title:
Compact Disc (5/3/2011)
MP3 CD (10/1/2014)
Hardcover (11/6/2018)
Paperback (9/1/2011)
MP3 CD (5/3/2011)
Description
The first novel in the Iron Druid Chronicles—introducing a cool, new, funny urban fantasy hero

Atticus O'Sullivan, last of the Druids, lives peacefully in Arizona, running an occult bookshop and shape-shifting in his spare time to hunt with his Irish wolfhound. His neighbors and customers think that this handsome, tattooed Irish dude is about twenty-one years old—when in actuality, he's twenty-one centuries old. Not to mention: He draws his power from the earth, possesses a sharp wit, and wields an even sharper magical sword known as Fragarach, the Answerer.

Unfortunately, a very angry Celtic god wants that sword, and he's hounded Atticus for centuries. Now the determined deity has tracked him down, and Atticus will need all his power—plus the help of a seductive goddess of death, his vampire and werewolf team of attorneys, a bartender possessed by a Hindu witch, and some good old-fashioned luck of the Irish—to kick some Celtic arse and deliver himself from evil.

Don't miss any of Kevin Hearne's phenomenal Iron Druid Chronicles novels:
HOUNDED | HEXED | HAMMERED | TRICKED | TRAPPED | HUNTED | SHATTERED | STAKED
Praise For Hounded: The Iron Druid Chronicles, Book One…
"Hearne, a self-professed comic-book nerd, has turned his love of awesome dudes whacking mightily at evil villains into a superb urban fantasy debut. Staying alive for 2,000 years takes a great deal of cunning, and sexy super-druid Atticus O'Sullivan, currently holed up in the Arizona desert, has vexed a few VIPs along the way. High up on that list is Aenghus Óg, the Celtic god of love. It's not just that Aenghus wants his sword back—though it is a very nice magical sword—but that Atticus didn't exactly ask permission to take it. Atticus and his trusty sidekick, Irish wolfhound Oberon, make an eminently readable daring duo as they dodge Aenghus's minions and thwart his schemes with plenty of quips and zap-pow-bang fighting." --Publisher's Weekly, starred review

"A page-turning and often laugh-out-loud funny caper through a mix of the modern and the mythic."—Ari Marmell, author of The Warlord's Legacy

"Celtic mythology and an ancient Druid with modern attitude mix it up in the Arizona desert in this witty new fantasy series."—Kelly Meding, author of Three Days to Dead

"Kevin Hearne breathes new life into old myths, creating a world both eerily familiar and startlingly original."—Nicole Peeler, author of Tempest Rising
Del Rey, 9780345522474, 320pp.
Publication Date: May 3, 2011
About the Author
Kevin Hearne hugs trees, pets doggies, and rocks out to heavy metal. He also thinks tacos are a pretty nifty idea. He is the author of A Plague of Giants and the New York Times bestselling series The Iron Druid Chronicles.