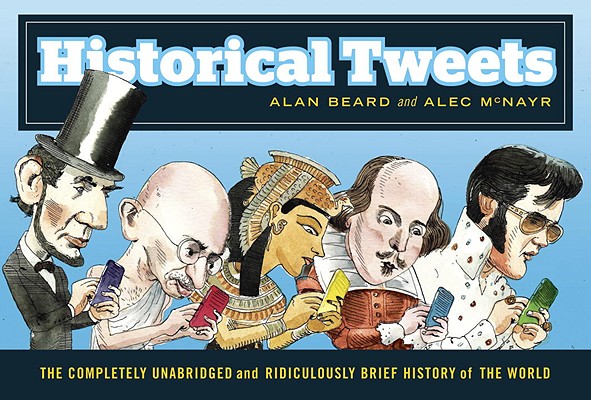 Historical Tweets (Paperback)
The Completely Unabridged and Ridiculously Brief History of the World
Villard, 9780345522634, 144pp.
Publication Date: April 27, 2010
* Individual store prices may vary.
Description
OUTRAGEOUS HISTORICAL REVELATIONS IN FEWER THAN 140 CHARACTERS!
 
THEY TWEETED WHAAAATTT? History's most famous personalities share their ridiculous, scandalous, and humorous thoughts. From the ancient tweets of @Plato and @Socrates to modern updates from @Napoleon, @Hitler, and @BabeRuth, Historical Tweets has all the answers to history's biggest questions: What happened to the dragons? What does "four score" mean? WWJT? For those who can handle only 140 characters' worth of history at a time (and don't mind breaking their history teachers' hearts), this is the perfect book.
 
@Kissinger Which button do I push to erase my last 18 and a half tweets?
TRICKY_ME
9:52 PM June 20, 1972
 
 
I live my life like a candle in the wind. Whatever that means.
LOL #mwah #mwah
MARILYN!
7:09 PM July 18, 1953
About the Author
Self-appointed Twitterstorians Alan Beard and Alec McNayr are the 1–2 punch of McBeard Media, a creative and copywriting agency. Together, they've worked with clients like Nokia, Janus Capital, Alcatel-Lucent, UCLA, Pepperdine University, and the ABC Broadcast Network. They created the Historical Tweets blog in late 2008.

Visit McBeardMedia.com to learn more.
or
Not Currently Available for Direct Purchase