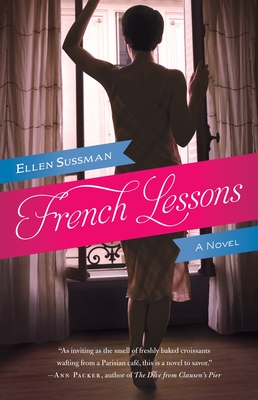 French Lessons
A Novel
Paperback

* Individual store prices may vary.
Other Editions of This Title:
Digital Audiobook (7/4/2011)
Description
A single day in Paris changes the lives of three Americans as they each set off to explore the city with a French tutor, learning about language, love, and loss as their lives intersect in surprising ways.

Josie, Riley, and Jeremy have come to the City of Light for different reasons: Josie, a young high school teacher, arrives in hopes of healing a broken heart. Riley, a spirited but lonely expat housewife, struggles to feel connected to her husband and her new country. And Jeremy, the reserved husband of a renowned actress, is accompanying his wife on a film shoot, yet he feels distant from her world.

As they meet with their tutors—Josie with Nico, a sensitive poet; Riley with Phillippe, a shameless flirt; and Jeremy with the consummately beautiful Chantal—each succumbs to unexpected passion and unpredictable adventures. Yet as they traverse Paris's grand boulevards and intimate, winding streets, they uncover surprising secrets about one another—and come to understand long-buried truths about themselves.
Praise For French Lessons: A Novel…
"[A] luscious novel of love and longing . . . the narrative feelslight as a glass of rosé at an outdoor café, but its insightscarry the richness of a Burgundy." —People  (four stars)
 
"[A] sexy travelogue . . . sizzling escapist reading."—Entertainment Weekly

"As inviting as the smell of freshly baked croissants wafting from a Parisian café, this is a novel to savor."—Ann Packer, author of The Dive from Clausen's Pier

"Touching, thoughtful, hilarious, and exquisite in its observations, French Lessons—Ellen Sussman's day in Paris with a wonderful collection of characters—is a treat. . . . Très charmant!"—Meg Waite Clayton, author of The Four Ms. Bradwells

"Charming, romantic, and brimming with Sussman's trademark joie de vivre, French Lessons is a novel to savor."—Amanda Eyre Ward, author of Close Your Eyes

"What a delicious read! With sexual tension that crackles on the page, I truly couldn't put down this literary page-turner. Book clubs: bust out your calendars. This novel's going on your list."  --Lolly Winston, author of Good Grief
 
"Elegant and evocative...Sussman has created wonderful characters who take us through the city as they discover hidden places, including those in their own hearts."  --Luanne Rice
 
"In French Lessons, Ellen Sussman has created an erotic, emotionally charged novel spanning two continents.  The intriguing cast of characters, whose lives are intertwined by a common love for the world's most beautiful language, make delicious reading from the first page to the last."  -- Michelle Richmond

"[An] evocative escape to the City of Love." --Kirkus
 
"Three Americans explore Paris alongside their attractive French tutors and find themselves caught up in a delightful day of desire in Sussman's second novel… Sussman keeps things fresh with a strong supporting cast and some unexpected insights into the characters' pasts, embracing a soupçon of mystery to go with the scenic strolls and flights of passion." – Publishers Weekly

"My favorite novels succeed in delivering life's best pleasures: making a new friend (the unexpected delight in encountering a sensibility both sly and sweet), being handed a surprise vacation (the joy of an exotic and stunning landscape), and, most exciting of all, finding oneself in the thrall of an intoxicating flirtation.  French Lessons is just such a book."  -- Antonya Nelson
Ballantine Books, 9780345522771, 256pp.
Publication Date: July 5, 2011
About the Author
Ellen Sussman is the author of the novel On a Night Like This. She lived in Paris for five years and now lives with her husband in Northern California.
Which of the three storylines resonated with you the most? Why?
Would you rather have Nico, Philippe or Chantal as your French tutor? Why?
Josie finds it difficult to reveal anything about her illicit relationship. Why does Josie keep lying – even to Nico, whom she will know for less than a day? What allows her to finally open up to him?
Riley realizes that she doesn't love her husband anymore, and she's definitely not in love with Philippe. However, she does love her mother, and "knows what she has to do. Love doesn't just sit around watching. Love jumps on a plane and shows up" (p 149). In what ways have the people you love shown up for you? Have you shown up for the people you love?
Does Jeremy consider himself and his wife to be a happy couple? How does his unconsummated attraction to Chantal change his feelings for his wife?
Nico's poetry collection deals with the idea of multiple truths, multiple versions of the same events. How else is this idea developed in the novel?
What do each of the students discover about themselves during their encounters with their tutors? What do the tutors discover? How are they each transformed?
Paris feels like a character in the novel. How do Josie, Riley, and Jeremy's experiences of Paris differ? What does Paris end up meaning to each of them?
What do you think is it about Paris that makes people fall in love (or in lust)?
or
Not Currently Available for Direct Purchase