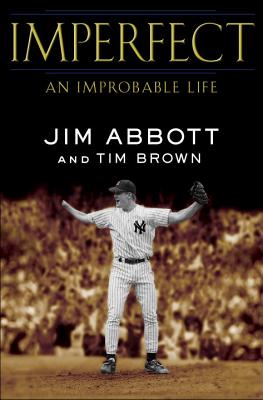 Imperfect (Hardcover)
An Improbable Life
Ballantine Books, 9780345523259, 304pp.
Publication Date: April 3, 2012
* Individual store prices may vary.
Description
On an overcast September day in 1993, Jim Abbott took the mound at Yankee Stadium and threw one of the most dramatic no-hitters in major-league history. The game was the crowning achievement in an unlikely success story, unseen in the annals of professional sports. In Imperfect, the one-time big league ace retraces his remarkable journey.
 
Born without a right hand, Jim Abbott as a boy dreamed of being a great athlete. Raised in Flint, Michigan, by parents who saw in his condition not a disability but an extraordinary opportunity, Jim became a two-sport standout in high school, then an ace pitcher for the University of Michigan.
 
But his journey was only beginning.
 
As a nineteen-year-old, Jim beat the vaunted Cuban National Team. By twenty-one, he'd won the gold medal game at the 1988 Olympics and—without spending a day in the minor leagues—cracked the starting rotation of the California Angels. In 1991, he would finish third in the voting for the Cy Young Award. Two years later, he would don Yankee pinstripes and deliver a one-of-a-kind no-hitter.
 
It wouldn't always be so good. After a season full of difficult losses—some of them by football scores—Jim was released, cut off from the game he loved. Unable to say good-bye so soon, Jim tried to come back, pushing himself to the limit—and through one of the loneliest experiences an athlete can have.
 
But always, even then, there were children and their parents waiting for him outside the clubhouse doors, many of them with disabilities like his, seeking consolation and advice. These obligations became Jim's greatest honor.
 
In this honest and insightful memoir, Jim Abbott reveals the insecurities of a life spent as the different one, how he habitually hid his disability in his right front pocket, and why he chose an occupation in which the uniform provided no front pockets. With a riveting pitch-by-pitch account of his no-hitter providing the ideal frame for his story, this unique athlete offers readers an extraordinary and unforgettable memoir.
About the Author
Jim Abbott was a major league pitcher with the Los Angeles Angels and the New York Yankees, among other teams. Born in 1967, he was an All-American at Michigan; won a gold medal with the 1988 Olympic baseball team; and threw a no-hitter at Yankee Stadium in 1993. He retired in 1999. Abbott has worked with the Department of Labor's Office of Disability Employment Policy, has been a guest pitching instructor for the Los Angeles Angels, and has appeared as a motivational speaker. He lives with his wife and two children in Anaheim.

Tim Brown is an award-winning writer with twenty years of experience covering Major League Baseball at the "Los Angeles Times, The Star-Ledger, Cincinnati Enquirer, " and Los Angeles" Daily News." He studied journalism at the University of Southern California and Cal State Northridge, and currently works for Yahoo! Sports.
Praise For Imperfect: An Improbable Life…
Advance praise for Imperfect

"Jim Abbott is the embodiment of perseverance.  The obstacles that he was able to overcome to play the game at the highest level are remarkable and his story can teach all of us valuable lessons.  Jim was a fierce competitor. He never viewed his disability as a disadvantage and, as a result, it wasn't.  Imperfect is a terrific story and the best part is that it's true." —Hall of Famer Cal Ripken, Jr. 
 
"As I read Imperfect: An Improbable Life, Jim Abbott's love for the game jumped off the pages. It was like Jim was right in front of me telling me his life's journey. I felt his pain, hurt, joy, exhilaration, disappointment and accomplishments throughout his life. Jim has always been and continues to be an inspiration for all of us."—Don Mattingly, former New York Yankee captain and current Los Angeles Dodgers manager
 
"The story of Jim Abbott—wonderfully crafted by Tim Brown—is everything you'd expect from a baseball life: funny, heartbreaking, and triumphant, though not necessarily in that order. Still, to label this fine book 'an inspiration' almost misses the larger point. Imperfect isn't about learning to cope with a disability. It's about becoming a man in America."—Mark Kriegel, author of Pistol: The Life of Pete Maravich and Namath: A Biography

"Jim Abbott was 20–22 as a pitcher for the Yankees, and yet, as a man who played the game with one hand, an argument should be made that he belongs among the greatest players of all time. In Imperfect: An Improbable Life, Abbott and one of America's leading sports journalists, Tim Brown, tell the amazing story of a man's dignity and grace in overcoming a forbidding physical hurdle to pitch 10 big-league seasons and to throw a no-hitter. Abbott won every day he took the mound. This book is required inspirational reading for all fans of the human spirit."—Ian O'Connor, New York Times bestselling author of The Captain: The Journey of Derek Jeter and Arnie & Jack
 
"If you think you knew the inspirational story of Jim Abbott, think again. With Tim Brown, Abbott gives an unflinching account of his remarkable baseball life—the joys and the pains. With each chapter you know him better and root even harder for him."—Tom Verducci, senior writer for Sports Illustrated and New York Times bestselling co-author of The Yankee Years
 
"Imperfect is one of the finest baseball memoirs ever written, an honest, touching, and beautifully rendered story that will remind even the most jaded fans why they loved the game. It is far more than a book about baseball; it is a deeply felt story of triumph and failure, dreams and disappointments. Jim Abbott has hurled another gem."—Jonathan Eig, New York Times bestselling author of Luckiest Man: The Life and Death of Lou Gehrig and Opening Day: The Story of Jackie Robinson's First Season