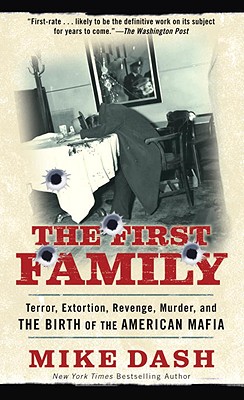 The First Family: Terror, Extortion, Revenge, Murder and the Birth of the American Mafia (Mass Market Paperbound)
Terror, Extortion, Revenge, Murder and the Birth of the American Mafia
Ballantine Books, 9780345523570, 474pp.
Publication Date: August 31, 2010
* Individual store prices may vary.
or
Not Currently Available for Direct Purchase
Description
Before the notorious Five Families dominated U.S. organized crime, there was the one-fingered criminal genius Giuseppe Morello and his lethal coterie. Combining first-rate scholarship and pulse-quickening action, Mike Dash brings to life this little-known story, following the rise of the Mafia in America from the 1890s to the 1920s, from the villages of Sicily to the streets of Little Italy. Using an array of primary sources--hitherto untapped Secret Service archives, prison records, and interviews with surviving family members--Dash has written a groundbreaking account of the crucial period when the criminal underworld exploded with fury across the nation.
About the Author
Mike Dash is a historian with an M.A. from Cambridge University and a Ph.D. from the University of London. A former professional journalist whose work has appeared in numerous national newspapers and magazines, Dash is the New York Times bestselling author of seven books, including Satan's Circus, Thug, Batavia's Graveyard, and Tulipomania. He lives in London with his wife and daughter. From the Hardcover edition.
Praise For The First Family: Terror, Extortion, Revenge, Murder and the Birth of the American Mafia…
"I love Mike Dash's books, and this is his best so far. Who'd have thought that the origins of the American Mafia, lost for decades in the mists of the early 1900s, could be excavated so clearly and so enjoyably? Working from newly uncovered documents, Dash has given us the first close-up view of how, when, and where the Mafia began. It's a tale of great intrigue, told with real flair, drama and, thankfully, precision."—Bryan Burrough, author of Public Enemies: America's Greatest Crime Wave and the Birth of the FBI, 1933—34

"Vividly imagined and prodigiously researched, The First Family tells the story of the American Mafia–'the most secret and terrible organization in the world'–as never before, a gripping, timeless saga of murder, mayhem, and the darkest corners of the American dream. Mike Dash has a journalist's nose for a good story and a novelist's gift for telling it, and The First Family reads like the most compelling, sleep-defying fiction."—Karen Abbott, author of Sin in the Second City

"An enthralling account . . . Decades before the Five Families emerged and more than half a century before Mario Puzo wrote The Godfather, Giuseppe Morello and his family controlled all manner of crime in New York City. . . . Readers may think they know the mob, but Morello's ruthless rule makes even the fictional Tony Soprano look tame."—Publishers Weekly, starred review

"Mike Dash is a brilliant researcher and writer who has done full justice to one of the most astonishing true stories.  Dash exhumes long forgotten evidence to tell us exactly how the Mafia arrived and—more importantly - how it thrived in this country."—Nicholas Pileggi, the author of Wiseguy and Casino

" Dash has dug into tons of material and emerged with a work of popular history—written in lively, lucid prose, with a strong narrative line and a wealth of anecdote, much of it gory—that seems likely to be the definitive work on its subject for years to come."—Washington Post

"[Mike Dash] is at his best conjuring the birth of the Little Italys in Lower Manhattan and East Harlem at the end of the 19th century."–New York Times

"Dash is a terrific historical researcher and storyteller…The First Family, another commendable combination of careful documentation and stirring narrative."—Chicago Sun Times

"An excellent, vividly written introduction to the birth of the Mafia…a must-read book for any student of American organized crime."—Huntingtonnews.net

"The First Family provides well-researched history for readers fascinated, and even repulsed, by organized crime."—Dallas Morning News

"Highly researched and smoothly written."—Philadelphia Inquirer

"Impressive."—Financial Times

"The Mob comes to America, and rivers of blood flow. An altogether excellent account…Dash writes with flair and care alike, taking pains to keep a complicated story and a vast cast of characters on track while studding the text with nicely hard-boiled observations. Essential."—Kirkus Reviews, starred review

"Morello's life story has it all—a harsh childhood, a physical infirmity, the tough life of an immigrant–plus the ultimate rise to power. British historian Dash does a terrific job…Recommended for all readers interested in true crime or New York City—or in a good history book."—Library Journal

"Energetic…astute…With original research its forte, Dash's history will impress aficionados of Mob history."—Booklist
Advertisement