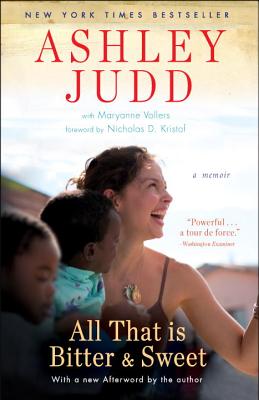 All That Is Bitter and Sweet (Hardcover)
A Memoir
Ballantine Books, 9780345523617, 432pp.
Publication Date: April 5, 2011
* Individual store prices may vary.
Description
Ashley Judd is an award-winning film and stage actor known for her roles in both box-office hits and art-house gems, and the daughter and sister of country-music royalty. In 2002, drawing on a deep well of empathy, she found her true calling: as a humanitarian and advocate for those suffering in neglected parts of the world.

Asked why she was opting out of a successful career, walking away while she was one of the highest-paid women in Hollywood, Ashley herself could not provide an answer. She simply knew that after her first trip to the notorious brothels, slums, and hospices of southeast Asia, her own life depended on advocating on behalf of the vulnerable. Promising each new sister, "I will never forget you," Ashley began writing extraordinary diaries—on which this memoir is based—expanding her capacity to relate to, and to share with a global audience, stories of survival and resilience.

Along the way, Ashley realized that the coping strategies she had developed to deal with her own emotional pain, stemming from childhood abandonment, were no longer working. Seeking in-patient treatment in 2006 for the grief that had nearly killed her, Ashley found not only her own recovery and an enriched faith but an expanded kit of spiritual tools that energized and advanced her feminist social justice work.

Now, in this deeply moving and unforgettable memoir, Ashley Judd describes her odyssey, as a left-behind lost child attains international prominence as a fiercely dedicated advocate. Her story ranges from anger to forgiveness, isolation to interdependence, depression to activism. In telling it, she resoundingly answers the ineffable question about the relationship between healing oneself and service to others.
About the Author
Ashley Judd received her masters degree in public administration at Harvard University's Kennedy School of Government. At Harvard Law, she was awarded the Dean's Scholar Award for her paper on gender violence. She continues to combine her acting career with human rights and public health work around the world, serving on various boards of directors and leadership advisory councils. She and her husband, race-car driver Dario Franchitti, live in Tennessee and Scotland with their many beloved animals.

Maryanne Vollers is the author of "Ghosts of Mississippi, "a finalist for the National Book Award. She has also collaborated on two memoirs: "Living History, "with Hillary Rodham Clinton, and "Ice Bound, " with Jerri Nielsen, both #1" New York Times" bestsellers.
Praise For All That Is Bitter and Sweet: A Memoir…
"All That Is Bitter and Sweet," is, at its heart, the story of Ashley Judd's awakening. In sharing the secrets of a childhood fraught with neglect, abuse and debilitating depression, she confronts the stigma of mental illness and celebrates the serenity that comes with the hard work of recovery. The reward is a new role on a new stage -- global advocate for HIV/AIDS sufferers. The humanitarian pursuit of social justice and gender equality is gritty work, but the people she meets in the slums, brothels, sex-slave markets, clinics and orphanages reinforce her faithful contention that every life has value. Judd's search for justice and peace -- for herself, and for the millions without a voice – is testament to the adage that when we help one person, we help the whole world."  --Greg Mortenson, author of NYT bestselling Three Cups of Tea

"Ashley Judd has written a deeply moving story -- amazingly, searingly, frank. It is her life story, warts and all. As I read her account of her childhood, I ask 'How could one so traumatized, so abused in childhood, become the woman we know, so caring, so altruistic, so compassionate, so concerned for others, and so joyful?'" --Archbishop Desmond Tutu

"Ashley Judd is has lived an extraordinary life. She has learned from it and turned it into a blessing and a call to action for others. Her journey is both moving and inspiring, unique and universal. Reading about it makes your own life make more sense." --Marianne Williamson

"This lovely woman, this movie star, this determined dreamer will be familiar to you, assuming you have struggled to resolve your childhood, carve out a career and make greater use of yourself.  Ashley Judd's story reminds us to work harder and on more important tasks, and promises that if we do, contentedness awaits." --Kelly Corrigan, author of NYT bestselling The Middle Place and Lift
 
"Judd's hauntingly beautiful memoir reflects upon her life as actress, wife, daughter, sister, woman of faith, and ultimately, as friend of the world's forgotten. The book is engaging as a narrative (I could not put it down), but this is not your typical 'celebrity memoir.' All That is Bitter and Sweet is written with uncommon depth and uncommon love. It has the power to transport you not only into the mind and spirit of a true activist, but into the elusive meaning of our shared humanity, and even into unexpected places in your own soul. Prepare to have your eyes opened and your heart jolted.  --Sue Monk Kidd

"Ashley Judd has given us magnetic and searingly honest portrayals of diverse women on screen. Now with the same honesty and magnetism, she brings us her true self on the page. From her childhood to her revolutionary empathy with women and girls living very different lives, her path will inspire readers on journeys of their own."  --Gloria Steinem

"All That Is Bitter and Sweet is all that is enlightening and inspiring.  Ashley Judd has composed a memoir that teaches while it entrances and finds hope and faith in the most unlikely places.  The book is full of real-life stories that reflect both the compassion of its author and the need for healing in the world."  --Madeleine K. Albright

"Over the last decade I have watched my gifted, brilliant friend grow as an artist, but more importantly, as a wise, deeply empathetic woman.  I have read the diaries that are the heart of this memoir since she began traveling the world, fearing for her safety and sanity, baffled why she chooses these grueling missions. All That Is Bitter and Sweet will be a revelation to readers, exposing Ashley Judd for what I have known for years she is:  An amazing woman doing extraordinary work." --Morgan Freeman

"There are certain books that stay with you far after the last page - Ashley Judd's All That Is Bitter and Sweet is that very type of book. With her sincere honesty, her commitment to servant leadership and her intense passion for everything that she is involved with, Ashley Judd presents a multi-layered portrait of how one person - committed, caring and conscientious - can truly make a difference. She may be our program's No. 1 fan, but after reading this, you can count me as one of her top fans." --John Calipari, University of Kentucky Head Coach
or
Not Currently Available for Direct Purchase