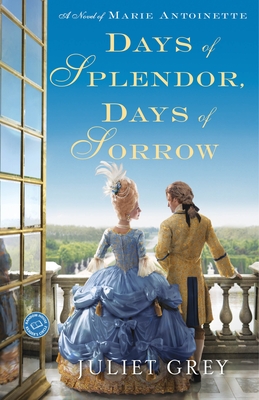 Days of Splendor, Days of Sorrow
A Novel of Marie Antoinette
Paperback

* Individual store prices may vary.
Description
A captivating novel of rich spectacle and royal scandal, Days of Splendor, Days of Sorrow spans fifteen years in the fateful reign of Marie Antoinette, France's most legendary and notorious queen.

Paris, 1774. At the tender age of eighteen, Marie Antoinette ascends to the French throne alongside her husband, Louis XVI. But behind the extravagance of the young queen's elaborate silk gowns and dizzyingly high coiffures, she harbors deeper fears for her future and that of the Bourbon dynasty.

From the early growing pains of marriage to the joy of conceiving a child, from her passion for Swedish military attaché Axel von Fersen to the devastating Affair of the Diamond Necklace, Marie Antoinette tries to rise above the gossip and rivalries that encircle her. But as revolution blossoms in America, a much larger threat looms beyond the gilded gates of Versailles—one that could sweep away the French monarchy forever.
Praise For Days of Splendor, Days of Sorrow: A Novel of Marie Antoinette…
Praise for Days of Splendor, Days of Sorrow

"Charming….Juliet Grey creates an unforgettable tapestry of court intrigue, royal scandals, and dangerous romances all set against the spectacular background of Versailles.  Grey spoils her readers with her deliciously descriptive details of eighteenth-century fashion."  —Bookloons.com
 
"It's a mixture of sober historical fiction and fluff that will appeal to many readers."  —Seven Days
 
"This engaging voice, coupled with vibrant descriptions of clothing, palaces, masques, and dinners, really thrusts the reader into the story…Exceptionally well done!"  —Historical Novel Review
 
"Grey has the gift of truly bringing Marie Antoinette to life.  Many authors have written about the Queen of France, but no one has managed to give her such a voice as Grey.  —Examiner.com
 
"This is a full and rich look at Marie Antoinette's life as queen….Grey really does offer the best portrayal of Marie Antoinette in historical fiction."  —Pittsburgh Historical Fiction Examiner
 
"Juliet Grey is an absolute master at bringing 1700's Versailles alive."  —Book Drunkard

"Tells a good story, using her imagination to fill in the gaps of the official history.  Her story is filled with the pageantry of the times and provides a glimpse of a lavish and intrigue-filled period in history."  —Fredericksburg Free Lance-Star

"Grey's characterization of Marie Antoinette is complex, making her such a multi-layered and interesting woman."  —Amoxcalli

"Juliet Grey does a wonderful job of crafting the world of this much maligned queen. " —Bippity Boppity Book

"I enjoyed the exceptionally detailed look at Marie's life as Queen of France." —The Eclectic Reader

"Grey has put a great deal of research into this book as you can feel the tension, love, and sorrow as if you were there."  —The History Nerd

"Every little detail in this book is delectable, and I savoured it thoroughly.  Written in good taste, nothing is amiss, and everything is possible."  —Enchanted by Josephine

Ballantine Books, 9780345523884, 448pp.
Publication Date: May 15, 2012
About the Author
Juliet Grey is the author of Becoming Marie Antoinette. She has extensively researched European royalty and is a particular devotee of Marie Antoinette, as well as a classically trained professional actress with numerous portrayals of virgins, vixens, and villainesses to her credit. She and her husband divide their time between New York City and southern Vermont.
or
Not Currently Available for Direct Purchase