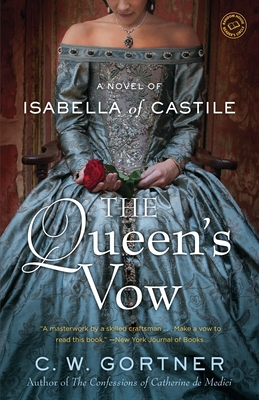 The Queen's Vow (Paperback)
A Novel of Isabella of Castile
Ballantine Books, 9780345523976, 416pp.
Publication Date: July 2, 2013
Other Editions of This Title:
Hardcover (6/12/2012)
Compact Disc (6/12/2012)
MP3 CD (6/12/2012)
Compact Disc (6/12/2012)
* Individual store prices may vary.
Description
"A masterwork by a skilled craftsman . . . Make a vow to read this book."—New York Journal of Books
 
Isabella is barely a teenager when she becomes an unwitting pawn in a plot to dethrone her half brother, King Enrique. Suspected of treason and held captive, she treads a perilous path, torn between loyalties, until at age seventeen she suddenly finds herself heiress of Castile, the largest kingdom in Spain. Plunged into a deadly conflict to secure her crown, she is determined to wed the one man she loves yet who is forbidden to her—Fernando, prince of Aragón. As they unite their two realms under "one crown, one country, one faith," Isabella and Fernando face an impoverished Spain beset by enemies. With the future of her throne at stake, Isabella resists the zealous demands of the inquisitor Torquemada even as she is seduced by the dreams of an enigmatic navigator named Columbus. But when the Moors of the southern domain of Granada declare war, a violent, treacherous battle against an ancient adversary erupts, one that will test all of Isabella's resolve, her courage, and her tenacious belief in her destiny.

Praise for The Queen's Vow
 
"A beautifully crafted piece of historical fiction . . . Gortner's vivid details blend with his deeply intensive research to re-create Isabella and Castile in a way that the reader will find compelling and immersive, bringing not just the Queen but the whole nation to life."—RT Book Reviews
 
"A fascinating story . . . Through his creative and spellbinding storytelling, Gortner's readers come to know Isabella intimately in mind, heart and body as she lives through a tumultuous time, her intense longing to be the determiner of her own unique destiny."—Wichita Falls Times Record News
 
"A novel of triumph as Isabella vanquishes her enemies one by one . . . [She is] a very human and appealing character."—The Roanoke Times
 
"Politically charged, passionate . . . [a] well-researched, intriguing historical."—Bookreporter
About the Author
C. W. Gortner's historical novels have garnered international praise and been translated into fourteen languages. He divides his time between Northern California and Antigua, Guatemala.
Praise For The Queen's Vow: A Novel of Isabella of Castile…
"A masterwork by a skilled craftsman . . . Make a vow to read this book."—New York Journal of Books
 
"A beautifully crafted piece of historical fiction . . . Gortner's vivid details blend with his deeply intensive research to re-create Isabella and Castile in a way that the reader will find compelling and immersive, bringing not just the Queen but the whole nation to life."—RT Book Reviews
 
"A fascinating story . . . Through his creative and spellbinding storytelling, Gortner's readers come to know Isabella intimately in mind, heart and body as she lives through a tumultuous time, her intense longing to be the determiner of her own unique destiny."—Wichita Falls Times Record News
 
"A novel of triumph as Isabella vanquishes her enemies one by one . . . [She is] a very human and appealing character."—The Roanoke Times
 
"Politically charged, passionate . . . [a] well-researched, intriguing historical."—Bookreporter