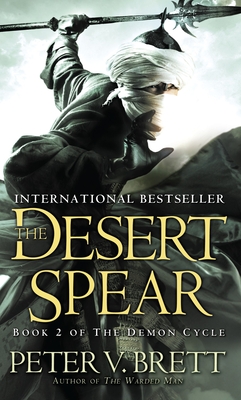 The Desert Spear (Mass Market Paperbound)
Del Rey Books, 9780345524140, 658pp.
Publication Date: March 1, 2011
Description
The sun is setting on humanity. The night now belongs to voracious demons that prey upon a dwindling population forced to cower behind half-forgotten symbols of power. Legends tell of a Deliverer: a general who once bound all mankind into a single force that defeated the demons. But is the return of the Deliverer just another myth? Perhaps not. Out of the desert rides Ahmann Jardir, who has forged the desert tribes into a demon-killing army. He has proclaimed himself Shar'Dama Ka, the Deliverer, and he carries ancient weapons--a spear and a crown--that give credence to his claim. But the Northerners claim their own Deliverer: the Warded Man, a dark, forbidding figure. Once, the Shar'Dama Ka and the Warded Man were friends. Now they are fierce adversaries. Yet as old allegiances are tested and fresh alliances forged, all are unaware of the appearance of a new breed of demon, more intelligent--and deadly--than any that have come before. Now with twenty pages of bonus material, including an exclusive interview with Peter V. Brett Look for Peter V. Brett's complete Demon Cycle:
THE WARDED MAN - THE DESERT SPEAR - THE DAYLIGHT WAR - THE SKULL THRONE - THE CORE (Coming soon )
About the Author
Peter V. Brett is the internationally bestselling author of The Warded Man, The Desert Spear, The Daylight War, and The Skull Throne. Raised on a steady diet of fantasy novels, comic books, and Dungeons & Dragons, Brett has been writing fantasy stories for as long as he can remember. He received a bachelor of arts degree in English literature and art history from the University at Buffalo in 1995, then spent more than a decade in pharmaceutical publishing before returning to his bliss. He lives in New York City. From the Hardcover edition.
Praise For The Desert Spear…
"The most significant and cinematic fantasy epic since The Lord of the Rings. Inspired, compelling, and totally addictive!" —Paul W. S. Anderson, director of Resident Evil: Afterlife
 
"Peter V. Brett is one of my favorite new authors."—Patrick Rothfuss, New York Times bestselling author of The Name of the Wind
Advertisement