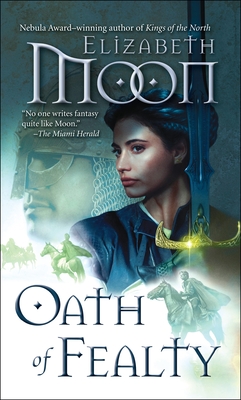 Oath of Fealty (Mass Market Paperbound)
Del Rey Books, 9780345524164, 480pp.
Publication Date: March 1, 2011
Description
For the first time in nearly twenty years, Elizabeth Moon returns to the thrilling realm of her superb Deed of Paksenarrion trilogy. Thanks to Paks's courage, the long-vanished heir to the half-elven kingdom of Lyonya has been revealed as Kieri Phelan, a formidable mercenary who earned a title--and enemies--in the neighboring kingdom of Tsaia, where Prince Mikeli suddenly faces the threat of a coup. Acting swiftly, Mikeli strikes at the powerful family behind the attack: the Verrakaien, magelords steeped in death and evil. Mikeli's survival--and that of Tsaia--depend on the only Verrakai whose magery is not tainted with innocent blood. Two kings stand at a pivotal point in the history of their worlds. For dark forces are gathering against them, knit in a secret conspiracy more sinister and far more ancient than they can imagine.
About the Author
Former Marine Elizabeth Moon is the author of many novels, including Victory Conditions, Command Decision, Engaging the Enemy, Marque and Reprisal, Trading in Danger, the Nebula Award winner The Speed of Dark, and Remnant Population, a Hugo Award finalist. After earning a degree in history from Rice University, Moon went on to obtain a degree in biology from the University of Texas, Austin. She lives in Florence, Texas.
Praise For Oath of Fealty…
"No one writes fantasy quite like Moon."—The Miami Herald

"Sheer delight . . . an engrossing new adventure."—Anne McCaffrey

"Oath of Fealty is the best kind of fantasy: familiar but complex, with substance behind the accomplished style."—Contra Costa Times
 
"Well-crafted storytelling . . . hard to put down."—SF Site
Advertisement