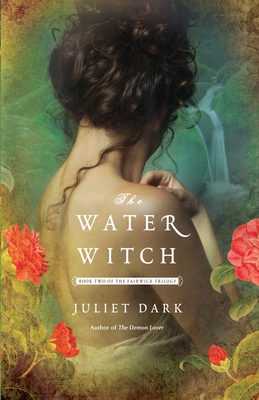 The Water Witch (Paperback)
A Novel (Fairwick Trilogy #2)
Ballantine Books, 9780345524249, 352pp.
Publication Date: February 12, 2013
* Individual store prices may vary.
Description
Perfect for fans of Deborah Harkness and Elizabeth Kostova, The Water Watch is a breathtakingly sexy and atmospheric new novel of ancient folklore, passionate love, and thrilling magic.
 
After casting out a dark spirit, Callie McFay, a professor of gothic literature, has at last restored a semblance of calm to her rambling Victorian house. But in the nearby thicket of the honeysuckle forest, and in the currents of the rushing Undine stream, more trouble is stirring. . . .
 
The enchanted town of Fairwick's dazzling mix of mythical creatures has come under siege from the Grove: a sinister group of witches determined to banish the fey back to their ancestral land. With factions turning on one another, all are cruelly forced to take sides. Callie's grandmother, a prominent Grove member, demands her granddaughter's compliance, but half-witch/half-fey Callie can hardly betray her friends and colleagues at the college. To stave off disaster, Callie enlists Duncan Laird, an alluring seductive academic who cultivates her vast magical potential, but to what end? Deeply conflicted, Callie struggles to save her beloved Fairwick, dangerously pushing her extraordinary powers to the limit—risking all, even the needs of her own passionate heart.
 
Includes a preview of Book Three of The Fairwick Trilogy: The Angel Stone

Praise for The Water Witch
 
"A lighthearted, fast moving fantasy . . . The Water Witch should appeal to readers of Charlaine Harris' Sookie Stackhouse novels."—New York Journal of Books
 
"Dark has an exquisite and clear voice. . . . One is aware of being in the hands of a mistress of the fine arts of storytelling and characterization. . . . It's all just great fun."—Albany Chronogram
 
"An intriguing story that will keep readers guessing."—Romance Reviews Today
 
"Readers are sure to enjoy being back in the atmospheric Fairwick. The cliffhanger ending will only leave readers clamoring for the last installment in this interesting trilogy."—SheKnows

Praise for Book One of The Fairwick Trilogy: The Demon Lover
 
"Dark's letter-perfect gothic style is a satisfying tribute to previous gothic novels, and the paranormal elements, including incubi, fae, vampires, and witches, make this a stellar romance."—Booklist, included in its list of the year's "Top 10 SF/Fantasy Titles"
 
"Steamy and nuanced."—Kirkus Reviews
About the Author
Juliet Dark is the pseudonym of critically acclaimed literary suspense writer Carol Goodman, whose novels include The Night Villa and The Lake of Dead Languages. Her novels have won the Hammett Prize and have been nominated for the Dublin/IMPAC Award and the Mary Higgins Clark Award. Her fiction has been translated into thirteen languages. She lives in New York's Hudson Valley with her family.
Praise For The Water Witch: A Novel (Fairwick Trilogy #2)…
Praise for The Water Witch
 
"A lighthearted, fast moving fantasy . . . The Water Witch should appeal to readers of Charlaine Harris' Sookie Stackhouse novels."—New York Journal of Books
 
"Dark has an exquisite and clear voice. . . . One is aware of being in the hands of a mistress of the fine arts of storytelling and characterization. . . . It's all just great fun."—Albany Chronogram
 
"An intriguing story that will keep readers guessing."—Romance Reviews Today
 
"Readers are sure to enjoy being back in the atmospheric Fairwick. The cliffhanger ending will only leave readers clamoring for the last installment in this interesting trilogy."—SheKnows

Praise for Book One of The Fairwick Trilogy: The Demon Lover
 
"Dark's letter-perfect gothic style is a satisfying tribute to previous gothic novels, and the paranormal elements, including incubi, fae, vampires, and witches, make this a stellar romance."—Booklist, included in its list of the year's "Top 10 SF/Fantasy Titles"
 
"Steamy and nuanced."—Kirkus Reviews