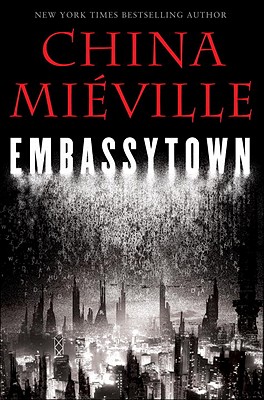 Embassytown
Hardcover

* Individual store prices may vary.
Other Editions of This Title:
Digital Audiobook (5/16/2011)
Paperback (1/31/2012)
Paperback (4/1/2011)
Hardcover (9/1/2011)
Description
China Miéville doesn't follow trends, he sets them. Relentlessly pushing his own boundaries as a writer—and in the process expanding the boundaries of the entire field—with Embassytown, Miéville has crafted an extraordinary novel that is not only a moving personal drama but a gripping adventure of alien contact and war.

In the far future, humans have colonized a distant planet, home to the enigmatic Ariekei, sentient beings famed for a language unique in the universe, one that only a few altered human ambassadors can speak.

Avice Benner Cho, a human colonist, has returned to Embassytown after years of deep-space adventure. She cannot speak the Ariekei tongue, but she is an indelible part of it, having long ago been made a figure of speech, a living simile in their language.

When distant political machinations deliver a new ambassador to Arieka, the fragile equilibrium between humans and aliens is violently upset. Catastrophe looms, and Avice is torn between competing loyalties—to a husband she no longer loves, to a system she no longer trusts, and to her place in a language she cannot speak yet speaks through her.
Praise For Embassytown…
PRAISE FOR CHINA MIÉVILLE

Embassytown

"I cannot emphasize enough how terrific this novel is. It's definitely one of the best books I've read in the past year, perfectly balanced between escapism and otherworldly philosophizing." --Io9.com

"Embassytown is a fully achieved work of art…Works on every level, providing compulsive narrative, splendid intellectual rigour and risk, moral sophistication, fine verbal fireworks and sideshows, and even the old-fashioned satisfaction of watching a protagonist become more of a person than she gave promise of being."
--Ursula K Le Guin

"A breakneck tale of suspense…disturbing and beautiful by turns. And yes—China Mieville's new novel is one of his best...I cannot emphasize enough how terrific this novel is."
--io9

 "The Kafkaesque writer journeys to the distant edges of the universe in his latest sci-fi thriller."
--Entertainment Weekly

"Utterly astonishing…A major intellectual achievement."
--Kirkus Reviews

"Brilliant storytelling…The result is a world masterfully wrecked and rebuilt."
--Publishers Weekly (starred review)


Kraken
 
"The stakes [are] driven high and almost anything can happen. The reader is primed for a memorable payoff, and Miéville more than delivers."—San Francisco Chronicle
 
The City & The City
 
"If Philip K. Dick and Raymond Chandler's love child were raised by Franz Kafka, the writing that emerged might resemble . . . The City & The City."—Los Angeles Times
 
Perdido Street Station
 
"Compulsively readable . . . impossible to expunge from memory."—The Washington Post Book World
 
The Scar
 
"A fantastic setting for an unforgettable tale . . . memorable because of Miéville's vivid language [and] rich imagination."—The Philadelphia Inquirer
 
Iron Council
 
"A masterwork . . . a story that pops with creativity."—Wired
 
Un Lun Dun
 
"Endlessly inventive . . . [a] hybrid of Alice in Wonderland, The Wizard of Oz and The Phantom Tollbooth."—Salon
Del Rey, 9780345524492, 368pp.
Publication Date: May 17, 2011
About the Author
China Mieville is the author of several books, including "Perdido Street Station, The City & The City, "and "Kraken." His works have won the Hugo, the British Science Fiction Award (twice), the Arthur C. Clarke Award (three times) and the World Fantasy Award. He lives and works in London.
or
Not Currently Available for Direct Purchase