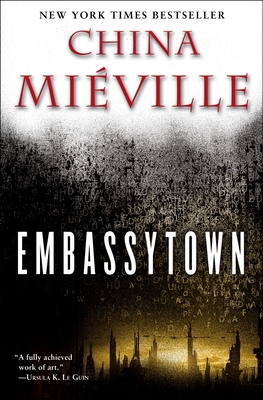 Embassytown (Paperback)
A Novel
Del Rey, 9780345524508, 368pp.
Publication Date: January 31, 2012
Other Editions of This Title:
Digital Audiobook (5/16/2011)
Hardcover (5/17/2011)
Paperback (4/1/2011)
Hardcover (9/1/2011)
Pre-Recorded Audio Player (5/17/2011)
* Individual store prices may vary.
Description
NEW YORK TIMES BESTSELLER

In the far future, humans have colonized a distant planet, home to the enigmatic Ariekei, sentient beings famed for a language unique in the universe, one that only a few altered human ambassadors can speak. Avice Benner Cho, a human colonist, has returned to Embassytown after years of deep-space adventure. She cannot speak the Ariekei tongue, but she is an indelible part of it, having long ago been made a figure of speech, a living simile in their language. When distant political machinations deliver a new ambassador to Arieka, the fragile equilibrium between humans and aliens is violently upset. Catastrophe looms, and Avice is torn between competing loyalties: to a husband she no longer loves, to a system she no longer trusts, and to her place in a language she cannot speak—but which speaks through her, whether she likes it or not.
About the Author
China Miéville is the author of several books, including Perdido Street Station, The City & The City, and Kraken. His works have won the Hugo, the British Science Fiction Award (twice), the Arthur C. Clarke Award (three times) and the World Fantasy Award. He lives and works in London.
Praise For Embassytown: A Novel…
"A fully achieved work of art."—Ursula K. Le Guin
 
"The most engrossing book I've read this year, and the latest evidence that brilliant, challenging, rewarding writing of the highest order is just as likely to be found in the section labeled Science Fiction as the one marked Literature."—Jim Higgins, Milwaukee Journal Sentinel
 
"Original, sophisticated, bristling with subversive ideas, and filled with unforgettably alien images . . . an amazing, sometimes brutal rhapsody on the uses of language."—The Christian Science Monitor
 
"Richly conceived . . . Embassytown has the feel of a word-puzzle, and much of the pleasure of figuring out the logic of the world and the story comes from gradually catching the full resonance of its invented and imported words."—The New York Times Book Review
 
"Miéville's swing-for-the-fences gusto thrills. This is Big Idea Sci-Fi at its most propulsively readable."—Entertainment Weekly
 
"Miéville [is] one of today's most exciting fabulist writers."—Los Angeles Times