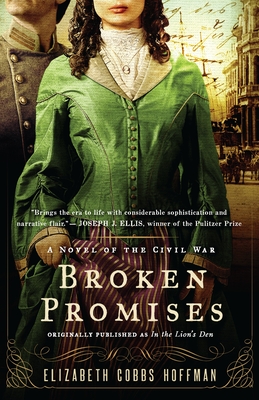 Broken Promises: A Novel of the Civil War (Paperback)
A Novel of the Civil War
Ballantine Books, 9780345524553, 325pp.
Publication Date: March 29, 2011
* Individual store prices may vary.
or
Not Currently Available for Direct Purchase
Description
Originally published as In the Lion's Den Winner of the San Diego Book Award for Best Historical Fiction Director's Mention, Langum Prize for American Historical Fiction 1861: The war that's been brewing for a decade has exploded, pitting North against South. Fearing that England will support the Confederate cause, President Lincoln sends Charles Francis Adams, son of John Quincy Adams, to London. But when Charles arrives, accompanied by his son Henry, he discovers that the English are already building warships for the South. As Charles embarks on a high-stakes game of espionage and diplomacy, Henry reconnects with his college friend Baxter Sams, a Southerner who has fallen in love with Englishwoman Julia Birch. Julia's family reviles Americans, leaving Baxter torn between his love for Julia, his friendship with Henry, and his obligations to his own family, who entreat him to run medical supplies across the blockade to help the Confederacy. As tensions mount, irrevocable choices are made--igniting a moment when history could have changed forever.
About the Author
Elizabeth Cobbs Hoffman is an award-winning historian and writer. She received her PhD in American history from Stanford University and is the Melbern Glasscock Chair at Texas A&M University. She has been a Fulbright scholar in Ireland and a fellow at the Woodrow Wilson International Center for Scholars in Washington, DC. Her novels include Broken Promises: A Novel of the Civil War and The Hamilton Affair. Her nonfiction books are All You Need Is Love: The Peace Corps and the Spirit of the 1960s and The Rich Neighbor Policy: Rockefeller and Kaiser in Brazil.
Praise For Broken Promises: A Novel of the Civil War…
"Brings the era to life with considerable sophistication and narrative flair."—Joseph J. Ellis, winner of the Pulitzer Prize

"A stirring tale of America's most precarious hour . . . a compelling read and masterly history as well."—David Kennedy, Pulitzer Prize-winning author of Freedom from Fear

"Delivers a fascinating combination of historical romance and a large dose of history...Hoffman provides a look at one of our forgotten heroes...[and] an additional perspective on a very harrowing time in American history."—Free Lance-Star

"A genuine page-turner...Beguiling...Successful on many levels, the novel demonstrates Cobbs Hoffman's literary sensitivity for lively details that shine a light into an area that, in the minds of many, remains one of the dimmest corners of war memory."--Civil War Book Review

"Broken Promises combines the historical and fictional storylines with ease and is very accurate in relating the events of the 1860s. The novel flows nicely, dialogue is credible, and the story holds one's attention to the end. I recommend this book to all lovers of Civil War-era fiction."--Civil War News

"I completely loved Elizabeth Cobbs Hoffman's Broken Promises...The true life of Charles Adams is mixed tastefully with a fictional romance in a completely realistic picture of the Civil War. I applaud this book, and will definitely be recommending it to my friends."--Book Divas

"Draws readers into [a] fresh take on the American Civil War."—Kirkus Discoveries
 
"North or South, a must-read."—Brian Balogh, co-host of BackStory with the American History Guys

"The best that historical fiction has to offer—a smart read with an intriguing array of real and invented characters."—Laurel Corona, author of Finding Emilie

"A very accessible way to learn history...Broken Promises also illuminates the role of women during the period as they were fighting for their own freedoms. Julia is an admirable woman and Baxter Sams is a very lucky man."--Huntington News
Advertisement