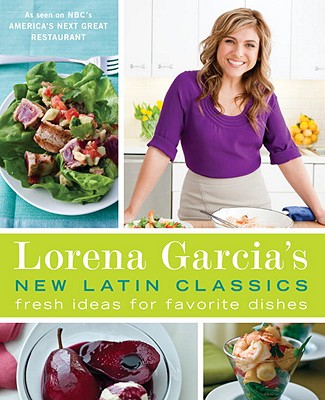 Lorena Garcia's New Latin Classics: Fresh Ideas for Favorite Dishes (Hardcover)
Fresh Ideas for Favorite Dishes
Ballantine Books, 9780345525437, 256pp.
Publication Date: September 27, 2011
* Individual store prices may vary.
or
Not Currently Available for Direct Purchase
Description
From Lorena Garcia, one of the country's most popular Latina chefs and the co-star of NBC's America's Next Great Restaurant, comes a must-have cookbook for anyone who loves the bold, fresh flavors of the New Latin Cuisine.

What's the secret to great Latin-inspired food? Create layers of flavor that unfold with every bite. That's just what Garcia does in this debut cookbook, serving up easy-to-make, irresistibly delicious dishes that taste "exotic"—though their ingredients can be found in your local supermarket. Here you'll find classic Latin favorites like Nuevo Arroz con Pollo, while homey American classics are given a modern Nuevo Latino twist. From succulent Snapper Taquitos with Jicama-Apple Salsita to versatile arepas, the fluffy corn flatbreads that are to the Venezuelan table what baguettes are to the French,  more than one hundred recipes in this volume lead lovers of Latin food far beyond tacos and empanadas.

Lorena Garcia takes one of America's hottest cuisine trends out of the restaurant and into the home kitchen, where everyone can enjoy it. Working from a base of standard pantry items that make replicating and extending these meals a snap, Garcia shows everyday cooks how to add a Latin accent to just about any dish, from meatballs to marinara. Want comfort food with flair? Who can resist such flavorful go-to dishes as
 
• Smashed Guacamole
• Creamy Roasted Corn Soup
• Salmon Taquitos with Roasted Habanero Salsita
• Mango BBQ Baby Back Ribs
 
Still have room for dessert? Garcia's are as simple as they are satisfying: Sticky Arroz con Pollo de Leche, Caramelized Vanilla Figs with Goat Cheese and Grilled Papaya, Spicy Chocolate Mousse—sweet finishing touches to a perfectly prepared meal.

Dedicated to the timeless concept of cooking as an expression of love—an idea that transcends all cultures—Lorena Garcia's New Latin Classics is a delightful book to be shared around the table with family and friends.
About the Author
Lorena Garcia was born and raised in Venezuela, where she completed her law studies. She later moved to the United States to study culinary arts at Johnson & Wales University. After working as an apprentice alongside such world-renowned chefs as Pascal Audin and Gennaro Esposito, she opened two successful Latin-Asian infusion restaurants in Miami, where she currently lives. In spring 2011 she appeared alongside celebrity chefs Bobby Flay and Curtis Stone and Chipotle CEO Steve Ells as a panelist/investor on NBC's new series "America's Next Great Restaurant." Additionally, she has taken on the challenge of combating childhood obesity with Big Chef, Little Chef, a comprehensive program to help kids and families take control of their eating habits and lives. Garcia opened Lorena Garcia Cocina in February 2011 in the American Airlines terminal at Miami International Airport.
Praise For Lorena Garcia's New Latin Classics: Fresh Ideas for Favorite Dishes…
Advance praise for Lorena Garcia's New Latin Classics
 
"I think lorena garcia is one of the most exciting latin chefs in america today. She has a beautiful style with her food and has managed to capture unbelievable authentic flavors in her approachable easy to follow recipes.  Lorena's food is delicious, fresh and vibrant. I want to eat and cook everything in this book."
--Curtis Stone 

"I love the way Lorena utilizes her local knowledge of Latin ingredients and fuses it with her passion for cuisine from all over the world."—Bobby Flay
 
"I think Lorena Garcia is one of the most exciting Latin chefs in America today. She has a beautiful style with her food and has managed to capture unbelievably authentic flavors in her approachable easy-to-follow recipes. Lorena's food is delicious, fresh, and vibrant. I want to eat and cook everything in this book."—Curtis Stone

"I have always been a fan of Lorena Garcia as a chef and as a person. She seamlessly creates natural and delicious food that is passionate, clean, and intelligent. Her Latin recipes are unforced and inspiring. Everyone should take this beautiful ride of flavors and cuisine!"—Chef Michelle Bernstein
 
"While we've grown up on Southern food, Lorena's fresh and flavorful recipes are perfect for spicing things up in the kitchen with some true Latin flair."—The Deen Bros.
 
"Filled with vibrant flavors, colors, and inspiration, Lorena's passion for Latin cooking is infused throughout this book."—Candice Kumai, food TV host, author of Pretty Delicious
 
"Lorena takes the best of traditional Latin cuisine and new fusion dishes and brings them within reach of those of us who love to eat amazing food. Her cooking is perfect for a meal with good friends—simple, happy, and reminiscent of hanging out in Grandma's kitchen."—Soledad O'Brien, CNN anchor/special correspondent
Advertisement